Here's why Trump tapped John Kelly to be his new White House chief of staff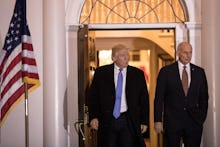 President Donald Trump on Friday tapped John Kelly — his Homeland Security secretary — to replace Reince Priebus as the White House chief of staff.
"He is a great American and a great leader," Trump tweeted.
Kelly — whose permanent replacement at the DHS has yet to be named — will enter the high-level White House post Monday seeking to steady a turbulent Trump administration rocked by scandal, infighting and unforced errors.
So why does the Trump administration consider the general the man for the job?
He's been a staunch defender of Trump
Kelly will take over the chief of staff position from Priebus, whose feud with new White House communications director Anthony Scaramucci boiled over this week when the Mooch accused him of being a leaker in a profanity-laden rant.
Kelly — a retired four-star Marine general — has been a staunch supporter of Trump. He has called leaks "pretty darn close to treason," strongly backed the need for Trump's travel ban and defended senior adviser Jared Kushner's reported attempts to set up a private communications channel with Russia.
"I don't see any big issue here relative to Jared," Kelly said on Meet the Press in May.
He has reportedly grown close to Trump, along with Kushner, the president's son-in-law, and Steve Bannon, the White House chief strategist, during his short time at the DHS — largely because of his shared views on immigration and national security with the president.
"One of our real stars. Truly one of our stars," Trump said of him at a law enforcement speech in Long Island Friday, before he was announced as chief of staff. "John Kelly is one of our great stars."
Trump loves generals
Kelly was the third general to be appointed to Trump's cabinet when he was nominated for Secretary of Homeland Security in December.
"Frankly, he's way too impressed in the generals," a Trump confidante told Politico in December. "The more braid you have on your shoulders and the more laurels that you have on your visor, the more impressed he is."
When he assumes his new position, Kelly will be the first general to serve as White House chief of staff since Gen. Alexander Haig in Richard Nixon's administration.
He's seen as a potential force of stability in White House
Kelly — widely regarded as a "no nonsense" figure who "won't suffer idiots and fools" — has largely sidestepped the scandals and distractions that have engulfed other members of Trump's cabinet.
Deputy Secretary Elaine Duke will take over as the acting head of Homeland Security when Kelly moves to the West Wing. Texas Rep. Michael McCaul; Thomas Homan, acting director of U.S. Immigration and Customs Enforcement and Kansas Secretary of State Kris Kobach have all been rumored to be potential candidates to permanently replace Kelly. Jeff Sessions, whose future as attorney general has appeared increasingly tenuous, has also been floated as a potential replacement.
Kelly's appointment was praised by lawmakers — including some Democrats — who suggested the retired general could be a steady hand at the wheel of the Trump administration.
"The kind of discipline that he is going to bring is important," Sen. Richard Blumenthal (D-Conn.) said on CNN of the appointment. "I hope that we're at a turning point now."
In a statement, Kelly said he will be "honored" to serve as Trump's chief of staff and thanked his DHS staff.
"I am honored to be asked to serve as the chief of staff to the president of the United States," Kelly said. "When I left the Marines, I never thought I would find as committed, as professional, as patriotic a group of individuals. I was wrong. You accomplish great things everyday defending our nation and I know your exceptional work will continue."