Frank Ocean's Panorama set was a stunning studio session played in front of thousands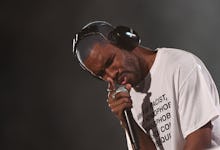 NEW YORK — Frank Ocean was on his Lauryn Hill tip Friday night at Panorama Music Festival. "How many of you guys have ever been in love before?" the 29-year-old singer asked the crowd, quoting one of the classroom skits from Hill's transcendent solo debut, 1998's Miseducation of Lauryn Hill. "How many of you have ever been through a breakup?" He looked out and chuckled at the audience's response before asking them to tap into those memories, just as he was; then he dove back into the minimal, devastating calm of his most recent masterpiece, 2016's Blonde.
It was one of the rare times during Ocean's headlining performance at Panorama that he appeared to acknowledge the fact that he was in front of an audience of thousands, and not just sharing new songs with a close group of friends in a practice studio. His small stage — built in the middle of the crowd and connected to the main stage by a catwalk — resembled that kind of intimate space.
A circle of chairs stood around the edges, where his band, featuring lo-fi auteur Alex G on guitar, sometimes sat when onstage. A large speaker stack was set up in one corner, and the floor and corners of the stage were covered in colorful graffiti. Ocean wore a pair of massive noise-canceling headphones — along with a T-shirt that read "Why be racist, sexist, homophobic, or transphobic when you could just be quiet?" — and sang mostly with his eyes closed, completely caught up in his own melodies and stories.
The only reason the audience could notice any of these details was because of Spike Jonze. The celebrated director circled around Ocean with a team of filmmakers, projecting the delicate, considered performance onto the main stage's jumbo screens — some of the footage came through crystal clear and cinematic, other parts played like a grainy home movie.
The total effect was magical. Here was one of the most intensely private artists of this century performing his sublime, subtle songs for a field of his followers. Suddenly, it made sense why Ocean's been cancelling one festival appearance after another — citing production delays. He's found a way to construct an environment where his crystalline post-R&B can command the sort of space that's far more suited to big-budget spectacles and pyrotechnics.
How funny to think that, not too long ago, it looked like Ocean was destined to follow in Lauryn Hill's footsteps, as if he was going to retreat further and further from the spotlight and never answer the brilliant statement record that earned him so much attention and acclaim. In the years following his breakthrough effort, 2012's widely adored Channel Orange, Ocean appeared to be on a downslope. He performed an experimental and lackluster staging of one of the album's deep cuts, "Forrest Gump," at the Grammys in 2013 — a performance that still drew derision from Grammy producers as recently as February 2017. He cancelled festival appearances. He deleted his Twitter and Instagram. Years ticked by with rumors of new music, but no actual songs. Fans became more and more impatient waiting for a successor to Channel Orange.
When the follow-up finally arrived in the summer of 2016 — in the form of Blonde, its companion magazine Boys Don't Cry and the avant-garde visual album Endless — all of the eccentricities made a lot more sense. Ocean isn't going to conform to industry standards; he isn't going to be bullied or rushed into working any way other than the way he wants to work. His is a career like no other.
Panorama drove that point home even further. He didn't compromise the reclusive and meditative nature of his most recent songs, but still made them feel expansive and magnanimous enough to blanket a festival space. His set consisted almost entirely of tracks from Blonde, Endless and his recent Blonded Radio singles. He played only one track from Channel Orange, the stunning "Thinkin Bout You," and he cut it over a new sample of the Jackson 5's "All I Do Is Think of You." It underlined his dedication to quiet innovation. If he's going to step onto a stage, he's going to reshape our expectations of what's possible on that stage.
Mic has ongoing music coverage. Follow our main music hub here.