Federal agencies are still struggling to react to Trump's policy announcements. That's a problem.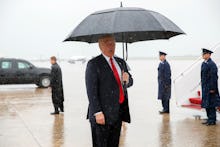 When President Donald Trump this week announced that he will ban transgender individuals from serving in the United States military, he did so apparently without having nailed down important details about how the policy would work and how it would be implemented.
In her daily press briefing Wednesday, White House press secretary Sarah Huckabee Sanders said the implementation would be something the White House and Department of Defense would "work together" to determine — but could not answer questions about basic details of what that policy would entail.
"I think sometimes you have to make decisions," Huckabee Sanders said the day Trump announced the ban. "And once he made a decision, he didn't feel it was necessary to hold that decision. And they're going to work together with the Department of Defense to lawfully implement it."
But the announcement reportedly took the Pentagon by surprise, and top military officials said this week that they would not make a policy change without "implementation guidance" from the Trump administration.
"There will be no modifications to the current policy until the president's direction has been received by the secretary of defense and the secretary has issued implementation guidance," Marine Gen. Joe Dunford wrote to military leadership.
The Trump administration had seemingly put the "cart before the horse," Los Angeles Times political analyst Cathleen Decker noted Wednesday.
This isn't the first time he's put forth policy that was direly lacking in specifics. His first travel ban, for instance, had a chaotic rollout in which the public — and those charged with implementing it — struggled to make sense of the vague executive order.
This propensity to talk up policy before it's been fleshed out is without precedent, according to Bill Curry — counselor to former President Bill Clinton from 1995 to 1997.
"Speeches got enormous attention from the entire [Clinton] administration, let alone actual policy proposals," Curry said by phone. "There's nothing like this. Anyone looking for a historical precedent should knock it off and look at something else, because there's not any."
The Clinton administration, Curry said, crafted and announced policy through a deliberate process — one that involved broad consultation, including from every agency impacted by the policy in question, and pizza-fueled late-night policy discussions.
That, he said, does not seem to be happening in the Trump administration.
"What would a Trump staffer give to have a late night pizza session over policy?" Curry, who was tasked with developing policy initiatives in the administration, said. "That's not looking so bad is it?"
Andrew Rudalevige, the Thomas Brackett Reed Professor of Government at Bowdoin College, said that Trump's transgender military ban exemplifies the "short-sighted" way the administration has drafted policy so far.
"The process of drafting presidential directives — basically in place since the 1930s — is being honored mostly in the breach at present," Rudalevige said in an email. "The point of the interagency clearance process is to make sure that pragmatic questions of implementation and bureaucratic 'buy-in' are considered. In other word, it protects the president from surprises and unintended consequences. So it is shortsighted for the president to short-circuit that process."
According to Curry, it's not terribly unusual for some to feel blindsided by policies, as the Pentagon reportedly was with Trump's transgender military ban. But the "magnitude," he said, is unique in the Trump administration.
"There's nothing equivalent to it in magnitude I can think of seeing in any White House," Curry said.