NES Classic Treasure Truck: Will Amazon be bringing more Nintendo mini consoles to more cities?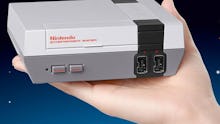 Amazon is the latest retailer to uncover a hidden reserve of NES Classic Edition mini consoles, and they're putting them on sale today. However, like ThinkGeek's recent sale, there's a major caveat to getting your hands on one. Unfortunately, this time it's not a minor annoyance like having to buy the NES Mini in a bundle. Instead, you'll have to live in one of the select areas serviced by an Amazon Treasure Truck.
What do you have to do to get one of these hot items Nintendo officially discontinued in April? We've got everything you need to know below.
NES Classic Treasure Truck: Details on Amazon's new daily-deal program
The Amazon Treasure Truck isn't a new concept, though if you haven't heard of it, don't feel bad. It debuted two years ago in Amazon's hometown of Seattle, Washington, but today marks the first time it's going nationwide — sort of.
The way this program works is that Amazon picks a selection of "favorite new, trending, local or delicious" items, and places them on the Treasure Truck. The truck will drive around metropolitan areas and stops to allow customers to make purchases and check out games, food, giveaways and more.
To buy items from the Amazon Treasure Truck, you can't just pay cash, unfortunately. You'll have to do the following:
1. Download the Amazon app on your Android or iOS smart device. Amazon's website says the Fire Phone is also supported, but no one uses that.
2. Wait for a designated Amazon Treasure Truck day in your community.
3. Go to the main menu on the Amazon app and proceed to "Programs and Features," then, "Treasure Truck."
4. Pick some stuff, tap "I want this," then a pickup location.
5. Pick your stuff up.
This seems like a pretty straightforward and fun program. However, not every city is going to get a chance to participate, and only a few people will be lucky enough to get their hands on an NES Classic Edition.
NES Classic Treasure Truck: How to get a NES Classic Edition
Right now there are only six cities where the Amazon Treasure Truck program is available:
• Atlanta
• Chicago
• Dallas
• Houston
• Los Angeles
• Seattle
The NES Classic Edition is available for today only so far for $60. You can catch the truck if you live in one of the above cities between 11 a.m. until 5 p.m. local time or until the supply of consoles has sold out.
You can get alerts and find out what's on the truck each day it runs by texting "TRUCK" to 24193 or activating notifications in the Amazon app.
NES Classic Treasure Truck: Will there be more NES Classic Editions available in more cities?
According to CNET, an Amazon rep declined to state how many of the Nintendo mini consoles were available. The company does plan to expand its Treasure Truck program as part of its expansion into the world of physical retail, but it's doubtful it will hit more cities in time for the NES Classic Edition offer to still be available.
If you missed out on this offer and the ThinkGeek sale there is hope yet for you to get an NES Classic. These consoles aren't springing out of nowhere, and it's doubtful Amazon would hold back stock on them just to sell them at the retail price later on, so new supply must be coming from somewhere. There hasn't been any confirmation yet from Nintendo, but perhaps the NES Mini isn't completely discontinued after all?
More gaming news and updates
Check out the latest from Mic, like this deep dive into the cultural origins of Gamergate. Also, be sure to read this essay about what it's like to cosplay while black, a roundup of family-friendly games to play with your kids and our interview with Adi Shankar, producer of the animated Castlevania Netflix series.