Republican Sen. Susan Collins just rejected her party's premise that the ACA can't be reformed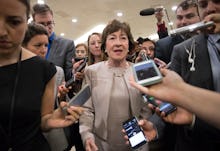 Republican politicians have long advocated for "repealing and replacing" the Affordable Care Act — but in the wake of the Senate's failed "skinny repeal" vote, one of the Republicans who prevented its passage is urging for a more bipartisan approach.
In an interview Sunday on Meet the Press, Maine Sen. Susan Collins suggested that Congress would be better off attempting to reform the much-maligned ACA, telling host Chuck Todd, "I do not accept the premise that we should not proceed to reform the law."
"There are some very real problems in the law," Collins said, adding, "the problem is that Congress … does not do comprehensive well.
"What we need to do is go through the normal process, identify the problems, have hearings, hear from the experts, hear from all the stakeholders and produce a series of bills to fix the very real flaws in the Affordable Care Act."
Collins, along with Sen. Lisa Murkowski, has been one of only two Republican Senators to consistently vote against the Senate's attempts at Republican-driven health care reform, with Sen. John McCain joining them to defeat Friday's "skinny repeal" vote. Collins' call for ACA reform goes against Senate Republicans' strategy of reforming health care through a reconciliation bill that requires only 51 votes — instead of 60 — in order to pass.
In her interview Sunday, Collins reiterated her objections to reconciliation, emphasizing her belief that the "normal committee process," which would require bipartisan support, is the best path to take.
"I've made very clear that I believe we would produce far better legislation if we went through the normal process of having committee hearings, hearing from health care providers, from insurances regulators, from advocacy groups, from governors, from everyone involved, and then produce bipartisan legislation with input from both Democrats and Republicans," Collins said.
"That's how we get the best legislation and that is the best path forward to fix the very real problems that both Democrats and Republicans see in the Affordable Care Act."
Collins also had harsh words for President Donald Trump's threat to end health care subsidies for low-income Americans as a way to "implode" the ACA.
"I'm troubled by the uncertainty that has been created by the administration when it comes to the subsidies that are given to very low-income people. … I hear this described by some as an 'insurance company bailout' — that's not what it is. It is vital assistance to people who make between 100% to 250% of the poverty level and allows them to afford their out-of-pocket costs," Collins said, adding that Congress "needs to end" the uncertainty and appropriate money to ensure the subsidies continue.