White House pushes for another health care vote — even as the American people want them to move on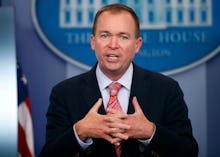 Senate Majority Leader Mitch McConnell admitted defeat in the wake of Friday's failed health care vote, saying that it's "time to move on" to other issues. But the Trump administration isn't letting health care reform go just yet — even if that's what the American people want.
Following Friday's vote, President Donald Trump has frequently taken to Twitter to demand Republicans keep the health care fight alive, telling Republican senators not to "give up" and even threatening to take away Congress's own health care subsidies if they don't pass a bill.
In an interview Sunday on CNN, White House budget director Mick Mulvaney said that Trump's continued health care tweets reflect the White House's "official policy" urging Congress to refrain from any other votes before they can pass health care reform.
"They need to stay, they need to work, they need to pass something," Mulvaney said about Congress on Sunday.
To justify the administration's continued insistence on health care reform, Mulvaney pointed to what the administration believes to be the will of the American people, saying that this push for another health care vote "is not only the official White House position on this right now, it's sort of the national attitude towards it."
"I think what you're seeing ... is the president simply reflecting the mood of the people," Mulvaney said. "In the White House's view, they can't move on in the Senate. In the people's view, they shouldn't move on in the Senate. They should stay and work and figure out a way to solve this problem," he added.
The American people, however, may actually have very different priorities from what the White House believes.
According to a Reuters/Ipsos poll released on Saturday that was conducted after Friday's failed vote on "skinny repeal," only 29% of respondents want Republicans in Congress to keep working on a new health care bill when asked what the legislative body should do next. Most preferred that the politicians turn to other topics, such as tax reform, infrastructure and foreign relations.
Though Republicans' health care efforts have largely focused on "repealing and replacing" the Affordable Care Act, the Reuters poll also revealed that most Americans prefer the existing bill. Sixty-four percent of those polled, up from 54% in January, said they would prefer to keep the ACA either "entirely as is" or after improving "problem areas."
Support for the ACA varied sharply across party lines, with nine out of 10 Democrats wanting to keep the bill, as opposed to only three out of 10 Republicans.
But even Republicans want Congress to move on to other issues. Though 75% of Republican respondents said they'd like to see Congress repeal and replace the ACA "at some point," most had other issues they'd like to see prioritized over health care.
"I don't understand why they had to push for health care reform before tax reform," Gene Anderson, an 81-year-old Trump voter from Indiana, told Reuters, saying that he'd like Trump to "refocus on some stability in his administration and some demonstration of being able to work together with Democrats in Congress."