In response to US sanctions, Putin expels 755 US diplomats from Russia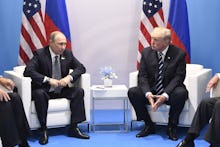 Russian President Vladimir Putin announced on Sunday that 755 United States diplomats will be expelled from Russia by Sept. 1, the New York Times reported.
The move comes in the wake of new U.S. sanctions against Russia, which were recently passed in the House and Senate by overwhelming margins. President Donald Trump is expected to sign the bill into law, Reuters reported.
According to the Associated Press, the sanctions, which are partially a response to the alleged Russian interference in the 2016 election, directly target Putin and his allies, along with "crucial sectors of the Russian economy," such as weapons sales and energy exports.
"We waited for quite some time that maybe something will change for the better, had such hope that the situation will somehow change, but, judging by everything, if it changes, it will not be soon," Putin said about Russia's strained relations with the United States in an interview on the Rossiya 1 network, as quoted by the Times.
Russia took its first steps against the sanctions on Friday, initially ordering the U.S. to reduce its diplomatic staff in Russia to 455 people and seizing two properties used by American diplomats in Moscow. It was unclear until Sunday's announcement, however, how many diplomats would be forced to leave the country.
Before the diplomatic cut was announced, Russian Deputy Foreign Minister Sergei Ryabkov said in an interview Sunday on ABC's This Week that the Russians' retaliation measures were "long overdue," adding that when the U.S. Senate "voted so overwhelmingly on a completely weird and unacceptable piece of legislation, it was the last drop."
"[If] the U.S. side decides to move further towards further deterioration we will answer, we will respond in kind," Ryabkov added. "We will mirror this. We will retaliate."