The creator of #OscarsSoWhite is planning to disrupt 'Game of Thrones' Twitter to send HBO a message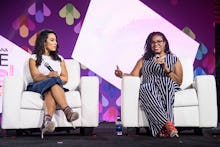 Anyone who's been on Twitter for the last two Sunday nights knows that live-tweeting an episode of Game of Thrones is just as important to fans as, well, actually watching it.
But if activist April Reign has her way, Thrones Twitter will see more than the usual hashtags trending when HBO airs the third installment of the ratings juggernaut's seventh season.
Reign, creator of the #OscarsSoWhite campaign, plans to disrupt the regularly scheduled live-tweeting of Game of Thrones on Sunday night to raise awareness about the uproar against Confederate, a series HBO purchased from Game of Thrones showrunners David Benioff and D.B. Weiss that has faced a mountain of backlash — even before the first episode airs.
In a pinned tweet, Reign asked her followers to join her in sending a message to HBO by helping her get the hashtag #NoConfederate trending during Sunday's episode of Game of Thrones.
Critics have decried the premise of the upcoming series— which takes place in an America where the South won the Civil War and slavery remains legal well into the 21st century — as unnecessary and exploitative of black pain and suffering. Some have cited the treatment of black characters in Game of Thrones, most of whom are slaves or servants, to bolster their argument that Benioff and Weiss are not right for the job.
Reign — along with #NoConfederate campaign co-creators Shanelle Little, Jamie Broadnax, Rebecca Theodore and Lauren Warren — hopes the hashtag campaign will help those criticisms reach people across the nation — and possibly even the world.
"The goal of the #NoConfederate campaign is to say to HBO that they should not spend any more time, energy and especially money on this show idea," Reign said in a phone interview on Sunday.
The hashtag already has early participation from Bree Newsome, the activist who rose to prominence when she removed the Confederate battle flag from the South Carolina state house.
Reign clarified that this campaign is not a boycott of HBO or Game of Thrones, but rather "an attempt to show HBO the power that [Confederate's critics] have on social media."
Though the self-described agitator did not have an estimate of how many planned to participate in her campaign, her tweets announcing the #NoConfederate campaign have garnered thousands of shares. Reign said that people from as far away as Japan planned on participating in the campaign — and that she hoped their support would get the hashtag trending internationally.
Reign argued that Benioff and Weiss could use the "significant leverage" they garnered from HBO due to the success of Game of Thrones to help tell the stories of marginalized communities.
"What we would love to see is that [Benioff and Weiss] open up opportunities for marginalized communities," Reign said. "So why not amplify the story, pitch or idea of someone in a traditionally underrepresented community and support them and get that show greenlit?"
If HBO must specifically air a show about slavery, Reign recommended Underground, a critically acclaimed, black creator-helmed show about a group of slaves who escape from a Georgia plantation in antebellum America. That show originally aired on WGN and was canceled after two seasons, despite solid ratings.
You can watch Reign's #NoConfederate campaign unfold in real-time here.
July 30, 2017 6:46 p.m.: This story has been updated.