A-1 Pictures 'Persona 5' Anime: The mega-popular RPG is getting a full-fledged anime series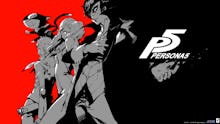 It's safe to say the stylish RPG Persona 5 has done well for itself. It opened to overwhelmingly positive reviews when it debuted on April 4, with publisher Sega recently announcing its shipment of 1.8 million copies worldwide. People can't get enough of Persona 5, so it's no surprise that parent company Atlus has just announced that the game will be getting its own anime adaptation in 2018 with Jun Fukuyama reprising the voice of the protagonist.
Persona 5 anime: What to expect from an anime adaptation
According to the short teaser trailer that debuted Sunday, Atlus is working alongside Japanese production company A-1 Pictures to bring the show to life. The trailer doesn't give much information as to what we can expect from the series when it debuts, but it does offer up information about which voice actors are taking up the characters' roles.
It won't be the first anime project related to Persona 5, though. We've already seen that with the introduction of Persona 5 The Animation: The Day Breakers, which debuted on streaming services like Crunchyroll to Western audiences ahead of the game's proper debut in April. It offered a brief look into operations the Phantom Thieves get into, revolving around a minor character you can meet in-game.
This isn't the first time the other Persona games have seen transformations into complete anime series, either. The nature of the games translates well to the screen, as does the aesthetic. Persona 3 saw four different film adaptations, as well as a non-canonical spinoff named Persona: Trinity Soul. Persona 4 received a 26-episode series simply titled Persona 4: The Animation, which took a more direct route and condensed the game into serial episodes that retold its canonical happenings.
Persona 4: The Animation is widely considered the best of the other Persona-related anime adaptations, as an entire series that gets more runtime and space to tell the game's story makes more sense than a couple of hours or a short spinoff that has little to do from the game.
Persona 5 is the best possible Persona game to turn into an anime, as it seems tailor-made for the medium. Action series often revolve around one monster an episode to be vanquished by the end, and the nature of "stealing hearts" and changing lives as explored in Persona 5 could make for some compelling mini-arcs of this nature. It would be especially interesting to see the infamous Kamoshida get his comeuppance outside of a boss fight that you have direct control over. The show would have to be just as stylish as the game, of course, but that shouldn't be too much of an issue.
Here's to another gripping anime adaptation for Persona 5, which hopefully helps lead us into another Persona game coming down the pipeline in the near future.
More gaming news and updates
Check out the latest from Mic, like this deep dive into the cultural origins of Gamergate. Also, be sure to read this essay about what it's like to cosplay while black, a roundup of family-friendly games to play with your kids and our interview with Adi Shankar, producer of the animated Castlevania Netflix series.