'Hot Mic' podcast: Priebus resigns, GOP health care fails, new sanctions anger Russia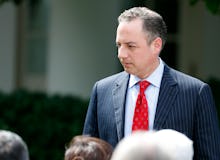 Listen and subscribe to the Hot Mic podcast from your mobile device:
Here are the important stories to know for Monday, July 31:
1. White House Chief of Staff Reince Priebus resigns.
2. After their repeal efforts fail, Senator Susan Collins says Republicans should focus on fixing Obamacare.
3. In response to new sanctions, Vladimir Putin says he'll expel 755 U.S. diplomats from Russia.
Direct from Mic's newsroom, Hot Mic keeps listeners informed with a daily run-down of top stories, breaking news and analysis from our news team.