"Innocent until proven guilty": R Kelly's fans chime in on "cult" allegations at recent show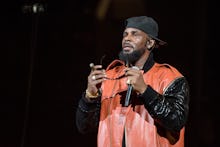 WHITE PLAINS, N.Y. — The woman wouldn't tell me her name, but she said I'd see her again. We were sitting outside the Westchester County Center, a mid-sized arena in White Plains, New York, where R. Kelly would soon play one of the last northeast stops on his After Party tour. A line about 100 heads long was filing in for the Sunday, July 30, show.
"Last time I seen R. Kelly, I got a kiss from him at Foxwoods," the woman said, smoking a cigarette. "I plan to get more than that tonight, don't worry. You'll see me."
I saw her once more, pushing through the crowd toward the stage as R. Kelly was starting his set, and later still, during a moment of extreme confusion, I swear I heard her voice. The 50-year-old singer had bent down near the edge of the stage to touch the hands reaching up toward his sweat-drenched pants. He either hopped into the scrum or was pulled into it, and a woman's voice rang through the arena: "I love you R. Kelly! I don't care what they say! Do your damn thing!" When he resurfaced, he was missing one of his red Timberland-style boots, and chastised the audience until they delivered it back up onto the stage.
Kelly himself had told the audience earlier in the night that things would get crazy. "I don't wanna offend anybody," he said. "You wanna leave, you better leave because it's about to get freaky up in here." It's an invocation he's reportedly riffed on before.
But considering the recent allegations detailed in a July BuzzFeed story, which accused the R&B singer of running a sex "cult" — and the fact that the piece has dragged his entire history of alleged sexual misconduct back into the news — it felt particularly bold. So did asking a woman in the audience to reach up and grab his crotch, then teasing her when she wasn't tall enough. So did him taking a woman's phone and rubbing it all along his groin from front to back. People shrieked, some cringed; I saw no one leave. In fact, none of the nearly two dozen people Mic spoke with throughout the night thought the recent allegations would turn away true fans.
Since BuzzFeed published its bombshell story — written by Jim DeRogatis, the same journalist who first broke the story about the musician's alleged predatory advances on girls as young as 15 back in 2000 — the artist's tour has been under the media's microscope. TMZ reported Friday that Kelly's Virginia Beach show was nearly half empty, prompting publications like the Root to ask: "Is the Pied Piper's Music Finally Fading?" Compare that with July 19, when TMZ ran a story claiming that ticket sales for the After Party shows were "booming." A promoter for one of the star's August performances shared a similar impression with Mic during a phone conversation on Wednesday: "It's selling even better, if anything," they said. "We're about 96% filled."
Nevertheless, three of Kelly's upcoming concerts — in New Orleans; Baton Rogue, Louisiana; and Dallas — have been cancelled, according to Ticketmaster. Baton Rogue's River Center Arena cited "unforeseen circumstances," as did the Music Hall at Fair Park in Dallas in a statement emailed to Mic. (Mic has reached out to New Orleans' Lakefront Arena for more information and will update if we hear back.)
Again, on Sunday, Kelly was playing to a half-full venue. A pair of ushers told Mic the venue had sold about 1,600 tickets before the show and more at the door, likely bringing the total somewhere near 2,000. The venue's main hall seats 5,000. But those fans who did come out to the show appeared extremely excited to see the R&B luminary live.
"We support him — but admit to your wrongs. ... You're rich. But be more rich at heart." — Bennie, a fan of R. Kelly's from the Bronx
"When the allegations came out, I had already bought my tickets to this thing," Natalie*, 29, who grew up in White Plains, said. She and her friends Rebecca* and Lauren* have all been following the stories closely, since he was playing in their backyard. "However, [Joycelyn Savage, one of the women involved in Kelly's alleged cult], the daughter of [Timothy Savage], the person that was like, 'Oh no, they're captured,' came out and said she's fine; she wants to be here; she's good. I don't think that R. Kelly has been convicted of anything people have tried to get him on, so he's good."
She's right: To date, R. Kelly hasn't been convicted of a crime related to his alleged sexual misconduct, despite being tried on child pornography charges and facing multiple allegations in legal filings that he's engaged in sexual relationships with underage women. He's settled a dozen or more civil lawsuits out of court with cash payments, BuzzFeed's story noted, and the women signed nondisclosure agreements. Kelly still dodges questions about ever having married his late Age Ain't Nothing But a Number mentee Aaliyah when she was 15 years old, though in the mid-'90s Vibe published an alleged marriage certificate.
"It's rumors, there's no charges," a fan named Denise*, who declined to give her age, said of the allegations that have been leveled against Kelly over the years. (Kelly had been charged with multiple counts of making child pornography, but was acquitted.) Denise said she crossed the country from Oakland, California, "specifically for [this show] ... and my sister's wedding."
"Innocent until proven guilty," her friend, Kendall*, from Yonkers, New York, offered. "There's no charges brought against him. Until then — I'm here to see him."
Clayton*, a longtime fan dressed in a white plaid suit, wished Westchester County had a bigger venue to host the star. "Some people on Facebook were talking about coming out here and protesting," he said. "I said, 'Don't you all do that while I'm here,' to people I know. I said, 'Don't spoil it.' Because that's his person. Let the Lord handle that. If you're a good parent, you don't have to worry about him getting to your kids."
Not everyone was willing to brush off the allegations. Two of the most enthusiastic and adamant fans I met, a brother and sister duo from the "Boogie Down" Bronx, Bennie* and Deborah*, had some harsh words for the singer. After running down their favorite lyrics from half a dozen R. Kelly songs — "I'm a Flirt," "I Believe I Can Fly," "Don't Put Me Out" — they asked I direct their message to the star.
"R. Kelly is a lyrical genius, and he's blessed — a lot of people would love to fit in his shoes," Bennie said. "We support him, but admit to your wrongs. ... You're rich. But be more rich at heart."
"You got a lot of fans that still love and respect you [despite] all the crap you did over all the years," his older sister, Deborah, agreed. "Man, go see a doctor. Go get some help. There's a lot of people out here that want to help you. Do something."
I found them again during the concert, living it up while R. Kelly finished an a cappella rendition of "Bump n' Grind" off of his 1993 debut album, 12 Play. The performance was legitimately stunning. He belted every lyric, putting some powerful and clear sustain behind its most famous line: "But my body, my body's telling me yes."
"You see what I'm saying?" Bennie said, smiling and turning back up to the stage with wide eyes. "He's the world's greatest."
*Last names have been withheld to let sources speak freely on sensitive topics.
Mic has ongoing music coverage. Follow our main music hub here.