Officers had serious security concerns about Walker County Jail. Then 12 inmates escaped.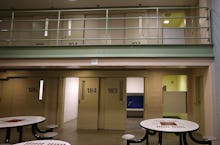 One inmate still remains unaccounted for following the escape of a dozen prisoners from Alabama's Walker County Jail on Sunday.
According to CNN, the man still at large is 24-year-old Brady Andrew Kilpatrick, who is serving time for drug-related offenses. "Off-duty personnel" along with the neighboring Jasper Police Department have been recruited to the ongoing search for Kilpatrick.
While Walker County Police haven't released information on how the 12 inmates were able to pull off their escape, there have long been concerns over the jail's security.
In 2014, Sheriff John Mark Tirey urged commissioners to put funding toward making repairs to the jail, especially after faulty cell doors led to the assault of two officers. Many of the cell doors, he said, had locks that were easy to pick or ones that didn't lock at all.
At the time, a commissioner pointed out to Tirey that the commissioners had already allocated $115,000 in funds toward making the repairs, which, if ignored, would have put the jail in violation of federal law. Commissioner Dan Wright, however, estimated that the repairs would cost at least $250,000.
"They're bringing a Band-Aid, when we need to have a massive surgery to correct this problem," Tirey said. "If I spend it all on locks and security, I'm going to be out everything else."
There is a $500 reward for anyone who comes forward with information leading to Smith or Kilpatrick's arrest. Until then, the Jasper Police Department advised downtown residents to stay inside and turn on any outdoor lighting.
Walker County Jail officials weren't immediately available for comment.