The FDA wants to make cigarettes much less addictive by cutting down the nicotine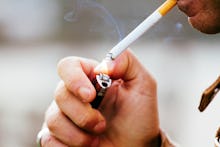 Despite huge public safety campaigns and repeated reminders that the Centers for Disease Control and Prevention dubs smoking "the leading cause of preventable disease and death in the United States" cigarettes haven't quite lost their charm. As of 2015, 15% of adults in the country smoked, and while that's down from 21% in 2005, that's still 36.5 million smokers.
The Food and Drug Administration is the federal agency that regulates cigarettes, and it has been working to limit how companies can advertise cigarettes to children and require labels that state upfront how dangerous the products can be.
Now, the FDA wants to take it a step further, by reducing the amount of nicotine in cigarettes so dramatically that they would no longer be addictive. In a speech announcing the plans, the agency's new commissioner, Scott Gottlieb, called nicotine in cigarettes "an addictive chemical mix of disease and death." That's because what really kills smokers is the other chemical compounds and the particles created by smoking — but what gets people addicted is the nicotine.
So the plan is to reduce nicotine levels in cigarettes, while leaving it in other products, like aids to quit smoking and e-cigarettes. That will be partnered with a range of efforts aimed at confirming the safety of low-nicotine cigarettes, keeping children away from e-cigarettes and helping current smokers quit. The whole plan is a result of regulatory powers given to the agency in 2009.
There's one big obstacle: Scientists aren't sure how low nicotine levels need to go to make a truly non-addictive cigarette. According to STAT, some researchers say a 95% decrease is a good target, others aren't sure that goes far enough.
Don't expect to get your hands on non-addictive cigarettes any time soon. The FDA hasn't set a firm timeline for the new policies but calls the plan "a multi-year roadmap." The announcement paved the way to begin the rulemaking process.
Aug. 1, 2017, 11:31 a.m.: This story has been updated.