These sorority sisters put a twist on the 'Sports Illustrated' swimsuit issue to honor black beauty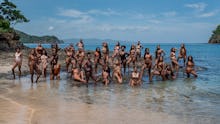 The annual Sports Illustrated Swimsuit Issue has made leaps and bounds these past few years when it comes to diversifying what it portrays as beautiful. Ashley Graham landed on a cover. Non-model athletes like Ronda Rousey got ones too. And older women like Christie Brinkley have been celebrated in the magazine.
But what's been lacking almost every year is an outright celebration of racial diversity and, more specifically, black women. In fact, there have only been two black women featured on the cover: Tyra Banks in 1997 and Beyoncé in 2007. That's it.
So when the women of the 2007 Delta Sigma Theta pledge class at Florida A&M University, who are known as "line sisters," got together to create #MelaninIllustrated, they showed Sports Illustrated what they've really been missing.
You see, #MelaninIllustrated is a result of 28 line sisters getting together on a trip to Costa Rica and putting their own spin on the issue, posing in swimsuits that matched their skin tones as a way to celebrate black beauty.
"When you think of Sports Illustrated, it's a very linear look," Melissa Butler, a line sister and founder of the Lip Bar, said in an interview. "Women are a certain size and shape, and often a certain complexion. I was like, 'Hey, let's put our own spin on this to show that beauty isn't linear.'"
According to Butler, the women made a point not to try to change their bodies before this photoshoot either.
"We didn't do a boot camp or anything," Butler said. "We didn't try to get fit or trim. It was come as you are. That was a big self-acceptance piece and that's what made the difference. It just showed a very diverse group."
As images of the shoot got posted on social media over the weekend, they quickly went viral, which was a huge surprise for the women.
"We had no idea," Butler said. "We thought it'd be really cool and thought we could inspire hope to the [Florida A&M] campus. This was our way to remind our campus that our presence matters and to inspire the young girls coming to school. The whole goal was to embrace our immediate network and just say, you are enough."
Beauty, to them, isn't similar-looking white women in seductive poses, but women of different shapes and sizes standing strong. Speaking of that, Butler said that during the one-day shoot with all the women, they all individually felt a boost of confidence when coming together and standing in those particular poses, in those bathing suits that highlighted their various skin tones.
"Honestly, it felt like we were very powerful confident beings," Butler said. "I think individually it's like, OK people don't really wear brown swimsuits. When you think of the beach, you think of neons and oranges. So when you're in your suite getting dressed, you're kind of bummed. But when everyone met in the meeting space, it was like wow, this looks incredible. When you got around the other sorority sisters, and saw how people put it together in their own way and embraced their skin and body types, it was beautiful."
But given how diverse shades of nude are just becoming popular, these women really had to track down these suits over months and months. Butler herself had a hard time finding one that complemented her complexion.
"I even had issues," Butler said. "I was looking for something that matched, and I ended up with a blush swimsuit. It was very difficult finding neutral swimsuits. In reality it's difficult finding nude anything, whether it's a swimsuit or panty hose or lipstick."
According to her, other girls had luck at H&M and Target and even Asos. "It wasn't like one destination," she said. "It was like a hunt."
Ultimately, after months of planning and orchestrating, Butler and her line sisters couldn't be happier with how the shoot came out.
"I think everyone believed in it," Butler said. "As women, we face these things every day where the media is telling us exactly what we should look like. This was a rebellion of that. From the beginning, everyone knew it was something that we should do."
August 1, 2017, 9:21 a.m.: This post has been updated with quotes from Butler.