iPhone 8 Release Features: New clues suggest Apple's 2017 device may have infrared face detection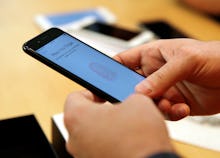 Apple just unveiled early firmware for its new smart speaker, called the HomePod. The device won't make its debut to consumers until the tail end of the calendar year, but the firmware does reveal things about another product launching later this year: the iPhone 8.
Steven Troughton-Smith, an iOS developer, made a discovery within the code that suggests infrared face detection is a feature in the upcoming iPhone. Face detection would provide consumers an alternate way to access their device instead of passcode or fingerprint security measures.
There are several lines of code with the phrase "BKFaceDetect." "BK" is speculated to refer to BiometricKit. According to Engadget, the code confirms "the use of infrared face unlock in BiometricKit for the next iPhone."
In the beginning of July, a Bloomberg report citing unnamed sources said Apple is testing 3-D face scanning technology allowing users to "log in, authenticate payments and launch secure apps by scanning their face." The report claimed a new 3-D sensor is currently "in development" and can scan a face and unlock an iPhone in a few hundred milliseconds.
But rumors of this nature date as far back as the start of the year. In January, a Cowen and Company research note teased that the new lineup of iPhones will have 3-D sensing technology that support "some form of facial/gesture recognition."
Then, in March, KGI analyst Ming-Chi Kuo forecasted that the premium commemorative iPhone — called the iPhone 8, iPhone Pro or iPhone X — will have "3-D sensing for facial recognition."
What remains undetermined is if the face-scanning technology will come to all Apple iPhones releasing later in 2017 or if the feature is exclusive to the high-end model.