Martin Shkreli faces up to 20 years in prison. Here are 6 things to know about his trial.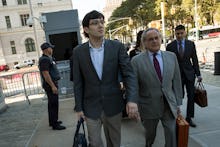 Jury deliberations began Monday in the trial of "Pharma Bro" Martin Shkreli, the pharmaceutical executive who has been described as "the most hated man in America."
Shkreli rose to prominence in 2015 when his company Turing Pharmaceuticals raised the price of a drug for AIDS patients by 5,000%, and has since been in the news for harassing journalist Lauren Duca and "trolling" fans of the Wu-Tang Clan after buying the sole copy of one of their records for $2 million, among other stunts.
The deliberations signal the end of the month-long federal trial taking place in Brooklyn, New York, at the U.S. District Court for the Eastern District of New York. Here's what to know about the trial, which will determine if 34-year-old Shkreli is guilty of eight counts of securities fraud and conspiracy to commit securities and wire fraud.
Shkreli is on trial for fraud — not his sky-high drug prices
Though Shkreli may be widely reviled for his callous price hike of Daraprim, his trial is for "widespread fraudulent conduct" resulting from his former company, Retrophin, and past hedge funds MSMB Capital Management and MSMB Healthcare Management.
Shkreli is accused of conducting a Ponzi-style scheme from at least 2009 through 2014, in which he misled hedge fund investors about the hedge fund's performance and misappropriated a total of over $1 million in investors' funds. He then paid investors back by issuing Retrophin stock and cash payments, mislabeling the payments as being for consulting services when they were actually to settle claims, the charges against Shkreli allege.
"It's time," assistant U.S. attorney Jacquelyn Kasulis said to jurors during the trial, the Guardian reported. "Time for Martin Shkreli to be held responsible for his choices. His choices to lie, deceive and steal. The last four weeks have exposed Martin Shkreli for who he really is – a conman who stole millions of dollars."
The defense is painting the charges as "rich people B.S." and calling Shkreli a "weird" genius
In Shkreli's defense, attorney Benjamin Brafman told jurors that the investors' complaints against Shkreli were "rich people B.S.," asking them to help him "save Martin" during the closing arguments on Friday.
"I feel like a life guard on a beach," Brafman said on Friday, according to the Washington Post. "It is my worst fear to not be able to rescue someone. There is Martin floating in his own little world, I could swim out and save him in two minutes, unless a current takes him away. I need your help to try and save Martin."
Though the prosecution has painted Shkreli as a "con man" who told "lies upon lies" to his investors, the Post reported, Shkreli's team has defended the executive by pointing out that he did not actually lose his investors any money.
Whether this argument will hold up with the jury remains to be seen, though legal experts are skeptical.
"The 'no harm, no foul' standard may have intuitive appeal, but that's not the way the law works," James Goodnow, an attorney with corporate defense firm Fennemore Craig, told the Washington Post.
"It's like if a burglar broke into a house while its owners were out of town, threw a rager, and then left a note saying, 'No worries — yeah, I broke in, but I cleaned up and left you flowers,'" Goodnow continued. "The positive outcome of a clean house and flowers doesn't negate the underlying crime."
Shkreli's defense has also painted him as an eccentric "genius," the Washington Post noted, asking the jury to take investors' descriptions of Shkreli as "not completely normal" and akin to Dustin Hoffman's character in Rain Man into consideration.
Hundreds of potential jurors were thrown out because they hated Shkreli
The lengthy trial got off to a slow start, as the prosecution and defense had to dismiss over 300 people during the jury selection, the New York Post reported.
The reason? Too many of them already hated Shkreli, describing him as "a very evil man," "a snake," "the face of corporate greed" and a "price gouger," among other comments.
One woman was excused for having a friend on Daraprim, the drug whose price Shkreli raised, telling lawyers, according to CNBC: "I've cried with them. I don't think I would be the right person to sit [on the jury]."
After multiple days of jury selection, a 12-person jury was assembled, consisting of seven women and five men, the New York Post noted.
Shkreli didn't testify during the trial
Shkreli made the decision not to take the stand during the trial, telling Judge Kiyo Matsumoto on July 24 that he would not testify after the prosecution rested its case later that week.
In a Facebook post on July 24, Shkreli used Jay-Z lyrics from the song "Never Change" to explain his decision, writing, "plead the fif when it comes to the fam im like a dog i dont speak but i understand."
This was the second Jay-Z-related moment during the trial, as a witness had previously testified that Shkreli used Retrophin funds to purchase $10,000 worth of tickets to a Jay-Z concert in 2012, CNBC reported.
That doesn't mean he kept his mouth shut
Though he decided not to officially take the stand during the trial, Shkreli has remained outspoken both with reporters and on social media throughout the proceedings.
Matsumoto ordered Shkreli to stop speaking to the media in the early days of the trial, after Shkreli addressed a room full of reporters to assert his case and call the prosecution team "junior varsity" lawyers who couldn't compare with their Manhattan counterparts. His comments could have potentially been overheard by the jurors, the judge noted when chastising Shkreli.
"Do I want to exonerate myself? Yes," Shkreli told the reporters, according to the Washington Post. "I think the world blames me for almost everything. … They blame me for capitalism."
Though Shkreli's defense attorneys were able to stop the executive from subsequently speaking with reporters, agreeing to escort him at all times, they have not been able to keep Shkreli quiet outside the courtroom. He has frequently commented on the trial on social media, where he has discussed the proceedings through Facebook status updates and in livestream videos.
During one recent livestream video, Shkreli reportedly said that he would "fuck Lauren Duca," the journalist who he got suspended from Twitter for harassing, if acquitted during the trial. Duca responded by saying she would "(still) rather eat my own organs."
On Thursday, Shkreli took to Facebook to channel the "Make America Great Again" rhetoric of President Donald Trump, referring to his trial as a "witch hunt" and calling to "Drain the sewer that is the DOJ."
If convicted, Shkreli faces a lengthy jail sentence
Though Shkreli has frequently attempted to make a mockery of the trial proceedings, the jury's decision could have some harsh consequences.
Shkreli faces up to 20 years in prison if convicted, the Guardian noted. According to NPR, five of the eight charges Shkreli faces carry a maximum sentence of 20 years, while the remaining three have a sentence of five years each.