Democratic rising star Kamala Harris has a "Bernieland" problem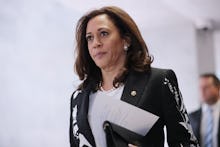 Freshman Sen. Kamala Harris (D-Calif.) has recently become the subject of much speculation about a potential 2020 presidential run. Several major news outlets have run feature-length profiles of Harris, and top Democratic donors are starting to coalesce around her as their preferred candidate to take on President Donald Trump.
But not everyone on the progressive left is feeling Harris-fever, and if the senator wants to win the Democratic presidential primary in three years, she'll have to start making inroads with a growing grassroots movement that remains highly skeptical of Harris's progressive bona fides.
Nomiki Konst, a Bernie Sanders supporter who serves on the Democratic National Committee's Unity Commission had three words for Democrats interested in Harris as a candidate: "Follow the money."
"The Democrats will not win until they address income inequality, no matter how they dress up their next candidate," Konst said. "If that candidate is in bed with Wall Street, you may as well lay a tombstone out for the Democratic Party now. Voters are smart; they can follow the money."
Konst's skepticism about Harris's alleged ties to Wall Street and insufficient commitment to populist economic issues reflect a broader trend among the residents of Bernieland. In a recent New York Times profile of Harris, another high profile Sanders supporter, executive director of National Nurses United RoseAnn DeMoro dismissed Harris's prospects as a progressive 2020 contender, saying, "She's not on our radar."
"She's one of the people the Democratic party is putting up," DeMoro told the Times. "In terms of where the progressives live, I don't think there's any 'there' there."
Harris's defenders immediately took issue with DeMoro's lack of enthusiasm.
"When it comes to where progressives live, uh, which ones are she referring to? The white ones?" Essence contributor Michael Arceneaux wrote, alluding to the long-standing criticism that the Bernie-wing of the party has failed to make inroads with minority voters. "OK, but they don't make the party. See the results of the last primary."
Since coming to Washington, Harris has engendered some progressive support by being a leading voice in the fight against Trump's agenda, earning praise from the left for her aggressive grilling of Trump's cabinet nominees during the confirmation process.
There are reasons for the suspicions about Harris's fealty to big financial interests. Despite opposing the nomination of treasury secretary and former Wall Street titan Steve Mnuchin, in a previous life as California attorney general, Harris was criticized for essentially letting Mnuchin's bank off the hook during the foreclosure crisis.
In 2013, prosecutors in her office drafted a memo that claimed they had "uncovered evidence suggestive of widespread misconduct" at Mnuchin's OneWest Bank. According to the Intercept's David Dayen, who first reported the memo, those prosecutors recommended Harris file a civil enforcement action against the bank. Instead, Harris did nothing. Later, it was revealed that Harris was the only 2016 Democratic senate candidate to receive a donation from Mnuchin.
But as Dayen himself noted in his book Chain of Title, Harris does have a record of standing up for homeowners during her time as California attorney general. Specifically, Harris used her attorney general tenure to push back against the Obama administration during negotiations on a major settlement for homeowners and held out for a better deal.
Still, some progressives fear that big money donors within the Democratic party will have considerable sway over Harris.
"She is the preferred candidate of extremely wealthy and out-of-touch Democratic party donors," said Winnie Wong, co-founder of the group People for Bernie, which played a prominent role the grassroots movement behind Sanders in 2016. "Her recent anointing is extremely telling. These donors will line her coffers ahead of 2020 and she will have the next two years to craft a message of broad appeal to a rapidly changing electorate."
Still, organizers like Wong have signaled that there is still time for Harris to win over their side of the party in order to present a unified Democratic message in 2020.
"If she wants to advance her political career, she will have to come out authentically and honestly in support of universal healthcare, free college, a federal $15 hour minimum wage, criminal justice reform and the expansion of social security programs," Wong said. "Anything less than this means the party will continue to bleed voters."
Harris has already come out supporting all five of those policies in one form or another. Whether or not that will be enough for her critics remains to be seen.
Aug. 1, 2017, 10:39 a.m.: This story has been updated.