A fat girl's dress code for the summer, as told by this very fed up plus-size YouTube star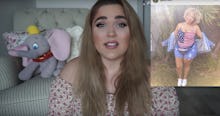 YouTube star Loey Lane knows how hard it is out there for a bigger girl during the summer. So many people have so many opinions on what they can wear. Crop tops? Oh no. Leggings? Honey, think again. Shorts? Ha, yeah right.
But rather than give a lecture about how none of these rules really exist, Lane decided to flip the script, and instead run through the list of do's and don'ts with a hefty dose of sarcasm. The result is Lane's video "Fat Girl Summer Dress Code," which already has more than 156,000 views.
"I'm here to educate all of you on your summer dress code," she announces at the start of the video. "And if you're starting out this video thinking, 'Can't I just wear whatever I want?' No, why would you do that? Why would anyone just wear what makes them comfortable and happy and not think about how others feel about the garments they're putting on their own bodies?"
First up in Lane's list of don'ts is, of course, the crop top.
"How can anyone think they can rock a crop top successfully without offending everyone around them? I mean, do you see that sliver of skin? Do you see it?" Lane says, as images of plus-size women rocking the hell of out some crop tops pop up. "I mean OK, maybe it kind of works."
"As someone who has almost always had a bigger body, I've been told by everyone around me what they're comfortable with in terms of my clothing," Lane said in an email to Mic. She continued:
When something is "too revealing" aka anything that isn't covering my bod from neck to ankles, people are very vocal about it! I just decided to finally show the idiocy in it to people who might hear the same things. When it's said and then debunked in the same sentence, it shows people just how ridiculous these "dress code rules" really are.
After crop tops, Lane decided to lampoon all the people who think bigger girls shouldn't wear shorts, either.
"You are completely expected to spend the entire summer in full-length leggings and/or jeans," she says. 
"Once again, they're just not made for bigger bodies. Have you ever seen a fat girl rocking a pair of shorts?" she asks, as pictures of bigger girls rocking shorts pop up yet again.
Then there's workout clothes, which should definitely fully cover their bodies.
"You should probably [exercise] in the standard long-sleeved T-shirt, full-on yoga pants, maybe a second layer of yoga pants just so you're not being too risqué," she says.
"Unless you've been actively working out for years and if you don't have abs by then, I don't know, maybe put on a bed sheet?" she offers.
And as for tight clothes? Absolutely not.
"No tight dresses or tight jeans or anything tight of any kind," she says. "Being able to see your figure is unacceptable."
Finally, bikinis. And girl, you already know.
"You don't get to wear what you want until you have the body to wear it," she says.
"But then no one is allowed to wear what they want ... because everyone is subjected to some kind of body shaming," she concludes.
After this pointed and truly funny take on what plus-size women are being pressured to think, Lane ultimately wants everyone to know that you can wear whatever you want, no matter who you are or how you look.
"The one message I want people to take away from this video is that you deserve to feel confident and happy in everything you wear," Lane told Mic. "Anyone who says otherwise is battling some serious inner demons! Life is too short to do anything but what you want."
You can view Lane's entire "Fat Girl Summer Dress Code" guide below: