Trump is still taking credit for economic growth. Here's the truth about the so-called "Trump bump."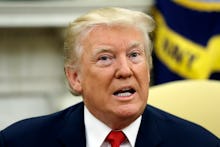 On Monday morning, President Donald Trump touted economic growth during his first six months in office, pointing to what he said is better growth in the United States economy since he took office.
"We have a [gross domestic product], on Friday — it got very little mention, although I guess in the business areas it did. But it got, I think, very little mention," Trump said during a cabinet meeting Monday morning, referring to the 2.6% annual growth rate in the U.S. economy in the second quarter, which the government announced last week. 
"Two-point-six is a number that nobody thought they'd see for a long period of time," Trump said. "Remember, I was saying we will hit three at some point in the not-too-distant future, and everybody smiled and they laughed and they thought we'd be at one. And 2.6 is an unbelievable number, announced on Friday."
The growth, however, is not "unbelievable," as Trump suggested. It doesn't even suggest economic growth is moving closer to the 3% growth rate Trump promised during the campaign.
"No — there's not a Trump bump," Chad Stone, chief economist at the Center for Budget and Policy Priorities, said in an interview. "The president is confusing a short-run fluctuation in gross domestic product in one quarter with longer-term trends leading up to this quarter and realistic longer-term projections going forward."
According to experts, Trump is equating one quarter of higher growth with an annual increase.
"Trump's comment is nonsense," Jared Bernstein, a senior fellow at the CBPP said. "In fact, as you see below, measured on a more accurate, year-over-year basis, GDP is growing at 2%."
In fact, the economy grew at larger rates than the 2.6% rate Trump touted in 14 quarters during former President Barack Obama's tenure, according to data from the U.S. Bureau of Economic Analysis. The economy even had eight quarters that surpassed the 3% growth rate while Obama was in office, according to U.S. Bureau of Economic Analysis data.
That includes a 5.2% growth rate in the third quarter of 2014. Of course, the 2017 second quarter's growth rate of 2.6% was higher than the rate in the first quarter. But that rate of growth is roughly the same as it has been for almost the entirety of Obama's two terms in office.
And, he's taking credit for economic growth when there's been no major policy changes to facilitate that growth.
"It's important to remember that a president is probably given too much credit — and blame — for macroeconomic performance," Tara M. Sinclair, associate professor of economics and international affairs at the George Washington University, said in an email. "This is particularly true early in a presidency when it is likely the policies of the previous administration that have a larger effect."
Experts add that increasing that growth rate to 3%, even with policy changes Trump's proposed, is difficult.
"I think it's something that would be wonderful if you can accomplish it, I would love to see it," Federal Reserve Chair Janet Yellen said on July 13 of the Trump administration's growth targets.
But, she added, "I think it would be quite challenging."