How to get more followers on Snapchat: 6 proven tips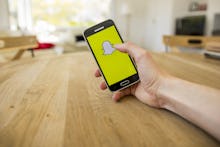 Growing a Snapchat following is more challenging than gathering followers on Instagram, Twitter or Facebook, since you can't peruse and explore content as seamlessly. But there are ways to grow your follower base. Here are six tips.
Share your account username on other platforms
Link your social media accounts to promote your Snapchat. This means you should include your Snapchat username on your Twitter, Instagram and Facebook profiles. You can also share your Snapcode on other platforms so users can scan and add you.
Share content across apps
If you've created some great content for Snapchat, then share it across other platforms like Instagram or Facebook, so your followers can see what you share on Snapchat. If it's good, they may be inclined to follow you on Snapchat to get regular updates.
Get people's numbers
Snapchat links your phone number to your account so the more numbers you add to your device's contacts, the more people you can add on Snapchat or invite to the platform. If asking people for their Snapchat handle feels awkward, then swap phone numbers. This will ensure you find each other on Snapchat.
Follow more people
Follow people you know, acquaintances or accounts you admire. But know that a mere follow isn't enough. Inc recommends engaging with users on Snapchat. This means responding to stories or sending private snaps.
Post quality content
At the end of the day, posting quality content will encourage people to follow you and continue watching your stories. Hootsuite, a social media management platform, advises you to "personalize the experience for your ideal Snapchat friends."
Stay up to date on all the features and updates
Snapchat has tons of features, from geofilters and stickers to masks. Know how to use all the features and stay updated on all the new features the platform has to offer. Mastering these tools will step up your snapchat game.