Meet Dexter Mayfield, the queer, plus-size male model taking the fashion industry by storm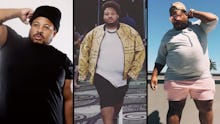 When Dexter Mayfield stepped on the runway at his very first fashion show back in 2015, he had one mission in mind: "Slay."
"I was pure nerves. Beyond nervous," Mayfield said in an interview. "Literally I had my favorite drag queens patting my sweat down. I was dripping sweat seconds before the runway. Plus women have had that platform, and a few of my plus sisters in drag have been able to get that platform, but no one with a male aesthetic has had that opportunity. At the last minute, Marco [the show's designer] looked at me and said: 'Dexter, I brought you into this show for a reason. Do you. Be yourself. Don't worry about what anyone thinks. Go out and shine and be the person that you are.'"
The runway walk that Mayfield ultimately presented at that Marco Marco show at Fashion Week Los Angeles was one of the most iconic walks of all time. Mayfield sashayed and shimmied and went almost immediately viral.
Since the memorable performance, Mayfield's been riding high from his moment of virality, with more brands taking note. He's walked in a number of fashion shows, including Marco Marco again in 2016. He's also landed on the cover of Hardy and has appeared in fashion campaigns, all in between his other jobs as an actor and dancer.
"After that runway, the second I finished, it was a familiar feeling of joy and happiness that I feel after I show my talent," Mayfield, who's danced for Jennifer Lopez and Katy Perry, said. "It's an awesome feeling and I think it's just part of the whole of being a performer."
Mayfield, along with models like Zach Miko and Kelvin Davis, has helped usher in an era of body positivity, with more plus-size men inching toward catwalks and major campaigns. Mayfield only wants to help this movement grow stronger.
"I think it's so important to have this conversation with young men," Mayfield said. "No matter how far I've come in the industry, I've been told, 'You still need to lose weight.' When it comes to presenting an image of male beauty, we need to expand that. We have Zach now, but we still have a long way to go."
Talking about self-love and acceptance isn't enough. Mayfield wants men like him out there, showing everyone that there is no one definition of male beauty.
"Once we expand that spectrum of what male beauty is, I think that to continue to have that visibility is crucial," he said. "We need to be out there on billboards. I think that so many more young men will be confident in themselves and happy as the person they are if we can do that."
Mayfield has big hopes for plus-size men in fashion, hoping they reach the level of visibility that plus-size women have achieved.
"I would like to see it evolve to where the plus women have evolved," he said. "I want a male Tess Holliday or Ashley [Graham]. They're so stunning in their own way, and there are so many different body types. I want to shop with everyone else. I want to get to a point where it's not rare to see a plus-size guy on a runway, or a plus-size woman in Paris Fashion Week, and not just in a plus-size show."
As for his own career, Mayfield is pursuing mainstream success, because it's where he thinks he can make the most impact to the biggest audience. If he were to land, say, a Forever 21 campaign, more plus-size men would feel represented.
"Personally, my favorite brands are H&M and Forever 21 and Topman," Mayfield said. "Specifically, I would love to work with those companies because that's the images we see, we see the campaigns, the stores. It's affordable fashion. I'd love to work with Target. These are the brands that represent a majority of America."