Hollywood is ignoring women over the age of 45, and these experts know why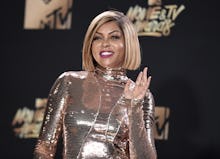 A new study finds that sexism remains alive and well in Hollywood — especially against older women.
A report released Monday by the Media, Diversity and Social Change Initiative at the University of Southern California's Annenberg School for Communication and Journalism found that of the top 100 grossing films of 2016, just 34 had women in leading roles. Women over the age of 45 constituted just eight of those 34 films.
In comparison, 29 leading roles in 2016 were played by men over 45.
The eight roles held by women were played Ellen DeGeneres, Taraji P. Henson, Nia Vardalos, Meryl Streep, Renée Zellweger, Tina Fey and Melissa McCarthy, the latter of whom starred in two of the year's top films.
Representation for older women is up slightly from 2015, when only five women over the age of 45 held leading roles in the year's top films. But for Terry Lawler, executive director of New York Women in Film and Television, an increase so minor isn't good enough.
"The people on screen and behind screen should reflect the population," Lawler said in a phone interview. "There should be women, there should be people of color, there should be older people, and all kinds of different disabilities, and it should reflect life. And it doesn't come close."
According to 2010 census data, approximately 53% of people 45 years of age and older are women — yet women held only 21% of leading roles for this age bracket in 2016, the USC study found.
Lawler said this lack of representation can largely be attributed to the shortage of women working behind the scenes. According to USC's report, only five of 2016's top 100 films were directed by women.
"There are much more men than women making the decisions," Lawler said. "Their idea of something that would be successful would be something that has younger women — people they're attracted to."
Erin Hill, a professor at the University of California-Los Angeles, Dartmouth College and Santa Monica College whose work focuses on diversity in film, said the absence of older women in Hollywood is due in part to the way women's characters tend to be written. In many cases, she said, women in films exist solely as companions to men.
"For most of the people who are making a lot of these decisions, they don't really conceive of women as central characters — they always conceive of them in relation to men," Hill said in a phone interview. "And so if you're a man conceiving of a female character in relation to men, you want someone young, and pretty, and attractive."
The entertainment industry has a long history of casting younger women to play characters with much older romantic partners, sometimes paired with men who are nearly twice their age. For example: Steve Carrell was 45 when he played the love interest of 25-year-old Anne Hathaway's character in the 2008 film Get Smart, and 61-year-old Liam Neeson wooed Olivia Wilde's character at the age of 29 in 2013's Third Person, according to Vulture.
Additionally, Meryl Streep told People in 2015 that women over 40 who do star in movies are usually offered less coveted roles, such as witches or grandmothers.
"When I was 40, I was offered three witch [roles]," Streep said. "I was not offered any female adventurers or love interests or heroes or demons."
Hill said the only way Hollywood can begin reversing the ageism inherent in the industry is for filmmakers to openly recognize the success of movies and TV series featuring older women.
"It tends to only happen in Hollywood when it's demonstrated for the people who make a lot of the decisions that there have been successes and that replicating some formula for success could include older women," Hill said. "If they see that it's successful somewhere, they might be more interested."