Nintendo Switch Youtube App: Does the console really need video streaming apps?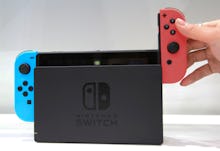 There's a lot to get excited about if you're a Nintendo Switch owner. Splatoon 2 dropped this month, and Super Mario Odyssey is coming in the fall — even if there's no Monster Hunter XX port coming to the west. However, one burning question on everyone's minds is when the Nintendo Switch will get video streaming apps — and there seem to be more questions than there are answers regarding this conundrum.
But does the Nintendo Switch really need video streaming apps like YouTube? Maybe not, and here's why.
Nintendo Switch YouTube app: The case against it
The excitement over video apps like YouTube and Netflix coming to the Nintendo Switch re-ignited in mid-June when reports came in that NicoNico, a Japanese video streaming service, was available for download on the Nintendo eShop. This caused a lot of speculation about whether or not other popular apps might come to the console as well.
According to a 2014 study by market intelligence firm Parks Associates, 44% of console users used their gaming device to stream video that year, Ars Technica reported. With data like that, it would be easy to argue that Nintendo can and should bring video streaming services to its new console. After all, the Wii U had them. However, only a few days after the Ars Technica piece was published, Forbes noted that according to market research firm GfK, video streaming on consoles was actually down 5% from 2013, and down 20% from 2011.
"Unless you already own one, video game consoles are arguably the least efficient way to use Netflix at the moment," Paul Tassi wrote. "Devices like Roku are smaller and simpler to connect. Chromecast is essentially a $35 USB drive. Smart TVs are perhaps the easiest of all, with no additional hardware required, and little more than a Wi-Fi code needed to get a Netflix app up and running."
To add onto this, Smart TVs — TVs with built-in media streaming and web browsing — accounted for over 50% of all televisions shipped in 2016, according to IHS Markit. In 2014, Business Insider reported that the number of Smart TVs in homes was set to double by 2018. Put simply: People who want to stream video in their home from devices other than their computers are pretty spoiled for choice right now.
This isn't to say that there isn't room for Nintendo to offer these streaming apps — especially given the console's portable design. But at this point, we can't see the inclusion of a Netflix or YouTube app making or breaking the console.
More Nintendo Switch news and coverage
Looking for more Nintendo Switch news? Check out how blind gamers are using the Nintendo Switch. Nintendo's left Joy-Con issue turns out to be a hardware problem — here's how to solve it. Find out how to buy a console amidst the recent restock. Learn why the Switch cartridges taste so bad. Check out our comparison photos sizing up the Switch to the Wii U GamePad (part one and part two), or find out how to make use of ethernet without the dock and the best way to get alerts when new stock arrives.