'Mario + Rabbids: Kingdom Battle': How Ubisoft convinced Nintendo to make the bizarre mashup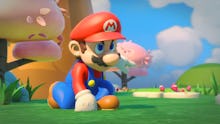 At E3 2017, Davide Soliani went from a little-known game developer to a minor meme in a matter of seconds. While Mario creator and gaming legend Shigeru Miyamoto was onstage revealing Mario + Rabbids: Kingdom Battle at Ubisoft's press conference, the camera cut to Soliani in the audience with tears of joy in his eyes.
It was a refreshingly earnest moment in E3's cacophony of marketing that often comes at the expense of humanity. Each video game, even the bad ones or the ones you don't care about, is a years-long passion project for someone.
I briefly chatted with Soliani after playing an extended demo of Mario + Rabbids, and he gave me a glimpse into how he and his team convinced Nintendo to let them make this surprisingly appealing game.
Nintendo to Ubisoft: "Go crazy"
It's surprising enough that Nintendo would let Ubisoft create a Mario and Rabbids mashup, but the game's genre is an even bigger shock. Instead of a classic Mario platformer or a mini-game collection, Soliani's team at Ubisoft Milan created a bonkers turn-based tactics game a la XCOM. In other words, Nintendo gave Mario to a Western studio and that Western studio gave him a gun.
Making something people would expect was out of the question.
"We must propose something that they are already not doing," Soliani told Mic. "We were willing to surprise them."
Soliani may be Mario creator Shigeru Miyamoto's biggest fan. His career wouldn't exist without Miyamoto's work, which made things difficult during his first seven-hour pitch meeting in Kyoto, Japan with the gaming legend.
"He is the creator that inspired my career," Soliani said. "He is a legend. So I was in front of him and I wanted to ask for his autograph, but at the same time I was there to present a game. I was shaking, I must admit it."
"I was in front of him and I wanted to ask for his autograph, but at the same time I was there to present a game. I was shaking, I must admit it." — Davide Soliani
At the end of that presentation, Miyamoto gave Soliani some advice that would ultimately drive the creative vision of the game.
"He told me, 'Show me your colors. Show me how crazy you can be with the Rabbids,'" Soliani said. "We were sharing the same vision to come up with something refreshing."
And go wild they did. The demo I played involved an opera musical number in which a giant, evil phantom Rabbid sings about how much he hates Mario. It includes meta references to Donkey Kong and Mario Kart, which was a bit strange to see in an official Nintendo game. The ensuing boss fight was ridiculous in its own way, but I'll let you see that for yourselves when the game launches on Aug. 29.
Closing the deal
It took several meetings before Nintendo signed off on the project. At one point, with just a few weeks to spare, Soliani and his team rebuilt part of their prototype from scratch based on one of Miyamoto's comments. Soliani thinks of that as the point where Miyamoto recognized their potential.
"I think it was at that point where Miyamoto-san recognized our commitment and our passion," Soliani said. "At that time, he probably felt that we were a good team to lend Mario."
There you have it. All you have to do to make your own Mario game is travel to Japan and participate in a litany of intense, personal meetings with one of the people behind the modern video game industry. Mario + Rabbids: Kingdom Battle is proof positive that it can be done.
More Nintendo Switch news and coverage
Looking for more Nintendo Switch news? Check out how blind gamers are using the Nintendo Switch. Nintendo's left Joy-Con issue turns out to be a hardware problem — here's how to solve it. Find out how to buy a console amidst the recent restock. Learn why the Switch cartridges taste so bad. Check out our comparison photos sizing up the Switch to the Wii U GamePad (part one and part two), or find out how to make use of ethernet without the dock and the best way to get alerts when new stock arrives.