Democrats don't see opposition to abortion rights as a deal breaker for running candidates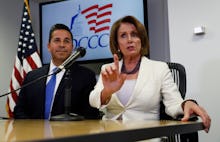 The Democratic party will not require 2018 candidates to evince support for abortion rights before doling out campaign dollars.
Democratic Congressional Campaign Committee chairman Rep. Ben Ray Luján told the Hill that "there is not a litmus test for Democratic candidates" as the party seeks to take back the House majority.
"As we look at candidates across the country, you need to make sure you have candidates that fit the district, that can win in these districts across America," Luján said. He went on to explain that, if Democrats are going to win the 24 House seats necessary to take the majority, flexibility would be key.
Reproductive rights advocates disagree: Destiny Lopez, co-director of All* Above All Action Fund — which rallies political support to overturn abortion restrictions — said that the party shouldn't throw women under the bus on its path to reclaiming the House.
"It's short-sighted and dangerous to pave the path to victory in 2018 at the expense of women," Lopez said in a statement. "Let's not forget that the widely lauded Democratic platform in 2016 clearly opposed not just restrictions on legal abortion — it also opposed the Hyde Amendment which bans abortion coverage. We urge the party to put its weight behind candidates who will stand with women."
The argument that Democrats need to be accommodating differing viewpoints on choice isn't anything new — in April, when party notables including Sen. Bernie Sanders and House Minority Leader Nancy Pelosi threw their support behind an often anti-choice mayoral candidate in Nebraska, the Democrats faced criticism for putting political aspirations ahead of constituents' best interests. Sanders responded thus:
"If we are going to protect a woman's right to choose, at the end of the day we're going to need Democratic control over the House and the Senate, and state governments all over this nation," the senator said on NPR. "And we have got to appreciate where people come from, and do our best to fight for the pro-choice agenda."
"But I think you just can't exclude people who disagree with us on one issue," he added.
In a statement to Mic, a former Democratic National Committee official who spoke on the condition of anonymity suggested that, since the election, the party seems increasingly to view "an economic populist platform" and support for "a woman's right to make her own health care decisions" as somehow mutually exclusive.
"But to prioritize economic security at the expense of reproductive rights means to ignore how closely linked these two issues are, to shun the millions of women who are leading the resistance against Trump and who are the backbone of the Democratic Party, and to take on a politically problematic position that will certainly hurt the party in 2018 and beyond," the official said, adding that "our policies as a party need to reflect" the fact that family planning is, along with readily available reproductive health care, absolutely an economic issue.
That's something Sanders and his peers have failed to mention in recent months. Abortion access — and the access to sex education and contraception you gain when abortion clinics stay open — is a solid predictor of potential for economic success.
In a 2005 study, 74% of women who terminated pregnancies said they couldn't interrupt work, education or their obligation to care for other dependents, while 73% said they simply couldn't afford it. Pregnancy alone is hugely expensive; forget the cost of raising a child. Financial precarity helps explain the results of a more recent study, which found that women who tried to get abortions but failed were three times more likely to end up living below the poverty line within two years.
For this reason — if not the basic belief that women should enjoy autonomy over their own bodies and lives — protecting women's reproductive freedoms has typically been a priority for the Democratic party, at least on the surface of things. But in 2017, as an anti-choice administration emboldens a religious right that's only grown more violent in recent years, Pelosi has mused that abortion "is kind of fading as an issue."
"Throwing weight behind anti-choice candidates is bad politics that will lead to worse policy," NARAL pro-choice national campaign director Mitchell Stille said in an emailed statement, noting that the majority of Americans support legal abortion and that "jettisoning" it from the platform won't win over hard-line anti-choice voters — it will just undercut Democratic values.
"Economic security isn't possible without reproductive freedom. Gender equality isn't possible without reproductive freedom. Families of all political leanings understand that — it's time people in 'this town' caught up."
Or, as Planned Parenthood Federation of America president Cecile Richards put it in a tweet: "Women deserve access to safe, legal abortion no matter if their state is red or blue — it's a constitutional right that can't be traded away."