Anthony Scaramucci is out as White House communications director, 10 days into his tenure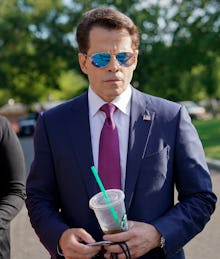 President Donald Trump has relieved Anthony Scaramucci from his role as communications director, just 10 days after initially naming Scaramucci to the role.
"Anthony Scaramucci will be leaving his role as White House communications director," the White House said in a statement. "Mr. Scaramucci felt it was best to give chief of staff John Kelly a clean slate and the ability to build his own team. We wish him all the best."
White House Press Secretary Sarah Huckabee Sanders said Scaramucci is no longer employed at the White House.
"He does not have a role at this time in the Trump administration," Sanders said Monday afternoon at a news briefing.
Scaramucci's dismissal was reportedly requested by newly minted chief of staff John Kelly, after Scaramucci boasted that he reported directly to Trump, according to the New York Times, which first reported Scaramucci's firing.
Scaramucci's 10-day tenure was marked by controversy. Outgoing White House press secretary Sean Spicer to resigned in protest over Scaramucci's appointment. And not even a week into the job, Scaramucci gave a profanity-laced interview to the New Yorker that led an entire news cycle.
In that interview, Scaramucci called now-former chief of staff Reince Priebus a "fucking paranoid schizophrenic, a paranoiac" and said White House chief strategist Steve Bannon sucks his own "cock."
His removal from the role is a sign that Trump is truly giving Kelly control over the White House staff.
Republicans are hoping that Kelly, a retired general, can bring some discipline to a chaotic White House staff.
July 31, 2017, 4:19 p.m.: This story has been updated.