A look inside Spain's only ham museum — a worthy temple to the country's most delicious export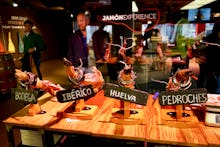 "Hey, how much do you think this bone-in leg of jamón iberico costs?" I ask my girlfriend, as I sit in our living room casually paging through the newest catalogue of La Tienda, a Spanish specialty foods store that imports the premium ham from the Spanish regions of the Iberian Peninsula. This is a new game we play — jamón pricing — similar to the way couples may guess which property on House Hunters the bedraggled two-bedroom seekers settle for. Since our vacation in Spain last spring, we have become total ham nerds.
As a recovering kosher vegetarian returning to Spain for my first time since embracing the omnivorous lifestyle, I made sure a visit to Barcelona's Jamón Experience, a ham museum located directly across from the Boqueria, one of Europe's most famous open-air markets, was on our itinerary. Pork has been an important protein source in the region even since Roman times, and the tradition of curing pork to turn it into different varieties of ham dates back just as long. In Spain today, it's nearly impossible to avoid a shop, bar, restaurant or gift shop offering some type of the prized legs of cured meat. As someone who had previously spent a good chunk of time in Spain avoiding all things ham, I was eager to jump on the pig ship.
Those who have traveled to Madrid or other parts of Spain may be familiar with the Museo del Jamón, a chain of delis that serves Spanish ham. Unlike Barcelona's Jamón Experience, it's not an educational institution. While the bright red sign and Jamón Experience's inclusion on the city's official tourist pass, Barcelona Card, may scream tacky traveler trap, passing up this opportunity to visit the Spain's only ham museum seemed like a huge mistake.
Upon purchasing our 19 euro tickets to gain admittance for a tour and tasting, I was nervous that this would, like the midtown Manhattan dancing sushi restaurant we've been to, be yet another cheesy tourist trap. Instead, we both became enraptured by the process of making Spanish ham, eating Spanish ham and pretty much everything Spanish ham-related.
The experience starts in the dimly lit basement of the multi-floored modern building, where spotlights illuminate gold-coated ham hocks dangling like exquisitely tacky pork chandeliers from the ceiling. A small group of English-speakers (tours are also available in Spanish) are then corralled into a dark, nearly empty gallery, where a spotlight dramatically illuminates a few white tablecloth-covered tables with empty chairs.
The setup looked as if it were primed for a high budget high school production of Death of a Salesman rather than a ham experience. As we lingered in the awkward setup, not knowing whether to sit or stand, restaurant sounds started playing over hidden speakers and a narrator started slowly reciting the joys of jamón iberico. The entire jamón experience, billed as "where Iberiam ham becomes art," started to make sense. Having visited Barcelona's Museo Erótico on a previous trip (a drag Marilyn Monroe lured us in with free cava), this wasn't the first time I'd witnessed this odd recreation of real life for the purpose of cultural education in a Spanish museum — and I was ready for it.
The recorded guide's voice ushered us through a series of rooms, where we learned about the special black pigs in the Iberian Peninsula who are fattened with acorns (bellotas) each autumn to become the premier class of ham hocks, otherwise known as jamón iberico de bellota. Video footage of this fattening season, called the montanera (or in some gases, the engorde — this tour is full of fun vocabulary), is enhanced with the delicate sound effects of the pigs snorting up the abundance of fallen acorns, a sound that's hard to forget as you watch a masterfully trained jamón master slice a thin piece of cured pig leg.
Still, despite the videos of cute animals and a glossing over of exactly how the pigs are slaughtered, the educational part of the tour left me more curious about what this special ham actually tastes like. Of course, the tour is set up to transition the museum portion into a seated tasting. After watching more video footage of the curing process (lots of salt!) and testing process (a man sniffs an animal bone inserted into the shrinking pig flesh to know when the jamones are ready) it was time to try a curated selection of Spanish hams.
Upstairs, branded plates burnished multiple slices of hams of various fattiness, thickness, reddish hue and soon-to-be discovered scent and taste, all separated by a grid our tasting guide patiently led us through, encouraging us to sniff and taste the acorn flavors in the prized jamón iberico de bellota, the most expensive, and rarest type of jamón that can only be made from pigs who reach 160 kilograms (about 353 pounds) during the montanera (think foie gras, but a little more free range).
The tasting guide poured everyone exactly one alcoholic beverage (a refill will cost you) as he chatted through the occasions certain hams would be eaten for — everyday lunch, a wedding reception, etc. — and helped us see why splurging on the de bellotas, just like a fine wine or artisanal peanut butter, would indeed make our time in Spain tastier.
Like any good museum, the Jamón Experience boasts an impressive gift shop, nearly overflowing with porky treats, including whole ham legs. Sadly, these are illegal to bring back through U.S. customs. (You can, however, order cured ham back in the U.S. from certified importers like La Tienda, which sells brands including Cinco Jotas.)
While the entire Jamón Experience lasted under 90 minutes, our appreciation of jamón iberico de bellota will last a lifetime. As we traveled through Barcelona's many neighborhoods, and then up through Zaragoza, Pamplona, San Sebastian and Bilbao, we kept an eye out for jamón iberico de bellota, served on sandwiches and charcuterie platters and stuffed in croquettes and sold at markets throughout the country.
Our last morning, I was stuffing just one last jamón sandwich into my mouth before I had to say goodbye to the precious meat. Had we not embarked on the delightfully tawdry Jamón Experience, I sincerely doubt we would have fully appreciated the Spanish treasure of a cured meat. Nor would we spend our free time guessing the price of ham hocks.
Pork lovers: If you're going to Spain, and going to be inundated with Spanish hams wherever you look, the least you could do is learn a little bit about them.
Correction: Aug. 9, 2017