'Overwatch' Summer Games 2017 Release Date: Data mine indicates new event will start soon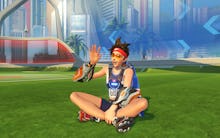 It's been less than a week since Overwatch introduced the new hero Doomfist, but it sounds like the 2017 Summer Games event could be just around the corner.
According to Reddit user Yernemm, who data mined the current build of Overwatch — meaning they looked inside the game's inner workings for information — there are files related to the Summer Games, this year's iteration on the event that first debuted in August 2016. It also appears that there are some references to the new in-game reporting system for consoles that Blizzard recently teased.
Luckily, Doomfist is already appropriately dressed for the summer weather. We've got the details on the data mine below.
Overwatch Summer Games 2017: New event set to start soon?
According to the data mine, the current version of Overwatch contains the following text files:
• "The Summer Games return for more fun in the sun! Your favorites from last year are back alongside 40+ new items!"
The first bit of text seems to be an indication that last year's Summer Games items will be available again this year in addition to several new ones. It's not clear what the breakdown of these new items will be — how many will be skins, sprays etc. — just yet. It's also not clear whether every single Summer Games item from last year will be available again or if the word "favorites" indicates it'll just be a select few.
The second bit of text sounds like it fits with a second iteration of Lúcio Ball, the special brawl from the 2016 Summer Games. But it's also possible that this description fits with an entirely different yet similarly sports-themed event. (Doomfist beach volleyball, anyone?)
Yernemm also found a chunk of text that refers to an alert a player on PS4 or Xbox One will receive when they've been suspended as a result of being reported by another player. This is significant because there's currently no way for console players to report one another within Overwatch. The console community has been clamoring for a reporting function for over a year, so any development in this space is a big deal.
It's not clear how far along the new console reporting feature is, but the fact that there are references to it in the current Overwatch build is certainly a good sign.
Here's the text Yernemm found relating to that feature:
Your fellow players reported you for a gameplay offense. This includes griefing, inactivity, ongoing harassment, physical harassment and scams. After a thorough investigation of the evidence, we have suspended your Overwatch account. As the owner of this account, you are responsible for all actions associated with it. We will only overturn penalties if there is evidence of a compromised account or similar extenuating circumstances.
The absolute earliest you could expect the Summer Games event to go live is Aug. 1. That would line up with Overwatch's one-update-per-month schedule. It would also line up with Overwatch's tendency to update on Tuesdays. Of course, it would certainly be a bit close to Thursday's Doomfist release — but stranger things have happened. We'll keep you updated.
More Overwatch news and updates
For more on Overwatch, check out the rest of what Mic has to offer. Here is an intro to the cute, new "Wholesome Overwatch" subreddit, a look at some gorgeous Overwatch-themed PS4 and Xbox One controllers, a cool Easter Egg in the new Horizon Lunar Colony map and a criticism of Blizzard's failures in its design of Symmetra.