With news of a 'Star Wars' hotel, is fantasy immersion the next big thing in travel?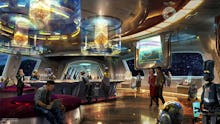 Disney announced on July 15 that not only will it open its largest theme park expansion yet with Star Wars: Galaxy's Edge at Disneyland in Anaheim, California in 2019, but that an accompanying hotel will be built at Walt Disney World in Orlando, Florida. The land will be set on a distant planet never before seen by fans, but one that's familiar to characters in the Star Wars universe, according to Disney imagineers at the D23 Expo in July. Visitors will be able to pilot the Millennium Falcon, visit the cantina for a glass of blue milk and wander a sprawling marketplace to barter with droid and alien vendors.
Since the first Disney park opened in 1955, the company has aimed to transport visitors out of their day-to-day lives to a place that's just a little more magical. The Star Wars hotel will attempt to send guests to a galaxy far, far away.
"We are working on our most experiential concept ever," Walt Disney Parks and Resorts chairman Bob Chapek told fans at Disney's D23 Expo, where the hotel was announced to gasps and cheers. "It combines a luxury resort with an immersion in an authentic Star Wars environment."
If it sounds like Westworld, the HBO show about a chaotic theme park, it nearly is — but without the violence and debauchery. While details have been sparse regarding what exactly an "authentic Star Wars environment is," Chapek told the crowd that from the moment guests check in, or "leave Earth," they will become an "active citizen" in the Star Wars universe and take part in a "dedicated, multi-day adventure." He added that the experience will include character interactions and "proper attire," and that every window will have a "view into space." Concept art released by Disney looks like a movie set with sleek interiors, droids roaming about and high-tech screens and interfaces.
The hotel is rumored to have a price point of $650 per night, with another $200 for each additional person in your group, according to Len Testa, co-author of The Unofficial Guide to Walt Disney World and creator of TouringPlans.com, a website and app that helps people optimize their theme park visits. His sources have told him Disney is developing storylines for packages beginning with a two-night stay that will vary for each guest.
"If it has more than 500 rooms I'd be surprised," Testa said in a phone interview. "If they keep the number of people small, they can charge more and have a better experience. And if you keep it small, they can do it anywhere — Tokyo, Anaheim, etc."
Disney hasn't indicated when the hotel will open, though Testa estimates it will be 2021 at the earliest, and it will be some time before reservations are available — Disney hasn't even announced where on property the hotel will be located, let alone begun construction. But it's clear that fans will be clamoring to don Jedi robes and join the resistance.
The concept of immersing oneself in a destination is nothing new, but has become more popular in recent years across the travel industry.
"Travelers want a more hands-on experience. It's not just viewing something, it's really participating in it," said Cece Drummond, managing director of destinations and experiences at luxury travel agency network Virtuoso, in a phone interview. "You don't just want to taste wines, you want to go to the vineyard, you want to pick the grapes and go through the whole process."
While there's a notable difference between interacting with locals and sharing in their experiences versus doing so with theme park employees playing a role, the popularity of authentic experiences in luxury travel has grown concurrently with the depth of immersion in theme parks and their accompanying resorts.
Disney's Animal Kingdom Lodge first welcomed guests in 2001 and is situated in the middle of a savanna, with giraffes and zebras grazing outside some rooms. Universal Orlando's Cabana Bay Beach Resort, opened in 2014, harkens back to the 50s and 60s in its architecture, furnishings, and even the retro packaging on the in-room toiletries. Vintage cars are parked in front of the hotel, and The Beach Boys and Frank Sinatra tunes play in the lobby to make sure guests are feeling the nostalgic vibes. In Malaysia, Hotel Jen Puteri Harbour debuted Hello Kitty-themed rooms earlier this year to complement the nearby Sanrio Hello Kitty Town theme park in Johor.
So what's the impetus for this growth? You can thank the young wizard at 4 Privet Drive.
"If you want to talk about the defining moment for the current era in the theme park business, it's clearly the opening of the Wizarding World of Harry Potter," said Robert Niles, editor of Theme Park Insider, in a phone interview.
Universal Orlando opened its first Wizarding World in 2010, in the Islands of Adventure theme park. It has since expanded that area and opened new lands at Universal Studios in Japan and Hollywood, California. The theme parks aren't just visually stunning, but allow guests to sip butterbeer, choose a wand (or have one choose you), and dine at the Three Broomsticks, just like characters from the beloved books and movies. Given Disney's latest announcement, a Harry Potter-themed resort may not be far behind — Testa said Universal began surveying its guests for their reaction to the Star Wars hotel within days of the news.
"Both of these companies are in deep competition with each other, which is great for fans, and maybe not so great for everybody else in the [theme park] industry," said Niles.
Following in Universal's footsteps, Disney recently opened its own immersive land based on a movie. Pandora – The World of Avatar debuted at Disney's Animal Kingdom in Orlando this May and is based on James Cameron's 2009 film. The 12-acre land isn't just "stunningly well decorated," according to Niles, with a floating mountain range and otherworldly plant life, but the Disney cast remains in character, speaking to guests as though they are actually visiting the distant moon.
Niles said guest response has been generally positive. "Disney showed that it could take an intellectual property that had a lot of potential but wasn't widely beloved and do something that made people really love it and want to be part of it," he said. Add this success with Star Wars' 40-year history and massive popularity, and it's clear that Disney has an obvious win on its hands.
"We're already getting requests from people," said Sue Pisaturo, president of Small World Vacations, a travel agency that only books Disney vacations, in a phone interview. "People are filling out quote requests saying, 'I know it's too early, but I want you to know I'm interested.'"