Here's why the US is concerned about Russia's upcoming military drills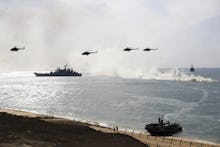 By the end of the summer, Russia will have sent as many as 100,000 troops to Belarus, the Baltic Sea, western Russia and the Russian enclave Kaliningrad for a scheduled military exercise known as Zapad.
According to the New York Times, the drill — which occurs every four years — continues to raise concerns from Western military officials for its proximity to the the eastern NATO border in Poland, Lithuania and Latvia.
This year's military exercise, however, is of particular concern to United States officials, being that it arrives amid increased tensions with Russia. On Thursday, the U.S. Senate voted overwhelmingly in favor of imposing economic sanctions on Russia (along with two other countries) for its alleged meddling in the 2016 election. Russia countered these sanctions by ordering that the number of U.S. diplomats to Russia be reduced to 455 — thus eliminating 755 of them — by Sept. 1.
The Times reported Russia's planned military drills are in no way a response to the recent clashes over sanctions, but it notes that they may be a symptom of a newly "isolated" and "increasingly assertive" Russia to which the sanctions contributed.
"First and foremost, the messaging is, 'We're watching you; we're strong; we've learned a lot; don't mess with Russia,'" Peter B. Zwack, a retired Army general, told the Times.
Among U.S. officials foremost concerns is that the drills could indicate plans to increase Russian presence in Belarus, the country standing between Russia and eastern European NATO members.
As a precautionary measure, the U.S. will send 600 American paratroopers to the bordering NATO territories. U.S. officials have heavily emphasized that the military's involvement does not, in any way, mean the U.S. is heading toward war with Russia. However, the "tank-heavy unit" central to the country's Cold War-era military drill isn't to be taken lightly.
"Look, we'll be ready; we'll be prepared," Lt. Gen. Frederick B. Hodges, who's in charge of the U.S. Army's forces in Europe, told the Times. "But we're not going to be up on the parapets waiting for something to happen."