John Kelly is Trump's new chief of staff. Here are four major challenges he faces.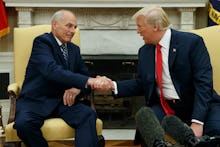 This is Mic's daily read on how the country is changing under Trump. Welcome to the political newsletter that wants you to note Jeff Flake is directly taking on Trump.
Want to receive this as a daily email in your inbox? Subscribe here.
What we're watching:
Today: Anthony Scaramucci is no longer White House communications director.
More: John Kelly is in as chief of staff.
Even more: The president is taking credit for economic growth that's not actually growth.
Yes, more: Trump is succeeding in making the judiciary more conservative.
Trump's agenda today: Participating in a small business event.
The 4 challenges facing John Kelly as Trump's new chief of staff
Within an hour of beginning the job of White House chief of staff, John Kelly had fired Anthony Scaramucci as the White House communications director. The move immediately sent a message: Kelly is in charge.
Now, with legislative deadlines approaching and the president pining for a victory, Kelly faces several key challenges in his first couple months.
1) Controlling the White House messaging. There's no keeping President Donald Trump from his Twitter followers. But Kelly is expected to have the authority to choose who becomes the next White House communications director. Scaramucci said he reported directly to Trump; Kelly will not entertain a similar setup with his new hire.
2) Repairing relationships with Republican senators. In a stunning rebuke of the president, Senate Republicans have said they are done working repealing and replacing the Affordable Care Act — at least for now. This demonstrates a lack of deference to Trump's authority despite his incessant tweeting calling for another vote on reforming the ACA. It also follows Trump threatening individual senators, like Dean Heller (R-Nev.) and Lisa Murkowski (R-Ala.).
With the White House still feeling the sting of a failure to replace the ACA, Kelly will have to convince senators the White House can work effectively with them to advance legislation. The United States is projected to hit the debt ceiling in September, a government shutdown looms at the end of that month and the tool to pass bills in the Senate with 50 votes also expires on Sept. 30.
3) Managing the "drip, drip" of the Russia investigation. The Washington Post reported Monday night that Trump dictated the statement for Donald Trump Jr. to provide the New York Times about a meeting with a Russian lawyer during the campaign. That puts the president in potential legal peril, given special counsel Robert Mueller is investigating the meeting and the statement turned out to be false.
This news came on Kelly's first day. It's a reminder he will have to contain the fallout from that investigation — which the president loves to tweet about — and not let it further derail Trump's presidency.
4) Keeping the family at bay. Trump's White House is famous for the number of people who can walk right into the Oval Office. Jared Kushner, Trump's son-in-law, and Ivanka Trump, his eldest daughter, are particularly known for their access and influence to the president. Reince Priebus struggled to exert any control over the pair. Kelly will have to balance Trump's love for his daughter and son-in-law with a need to streamline communication with the president.
News and insight you cannot miss:
A timeline of Scaramucci's 10 days at the White House. And a timeline of the departures from the Trump White House.
Speaking of Russia: Vladimir Putin has reformed a powerful tank unit to concentrate the most offensive power in one military unit since the end of the Cold War. In a show of force, he's moving 100,000 Russian troops to the edge of NATO territory in August.
Trump is taking credit for "unbelievable" economic growth. But the economy is doing about as well as it was under Barack Obama.
Trump has steadily been appointing conservative justices to fill federal judicial vacancies.
Trump's press secretary says the president was only "joking" when he told police last week to be rough on suspects.
Sen. Jeff Flake (R-Ariz.) comes out swinging against Trump: "We created (Trump), and now we're rationalizing him. When will it stop?"
More on the latest Democratic Party message: Some elected officials are saying they won't carry the "Better Deal" argument home to voters.
The U.S. slapped sanctions on the Venezuelan president after he pushed to reform the country's constitution. In response, Nicolas Maduro mocked Trump.