'Pokémon Go' Moltres Location: How to find the fiery legendary and catch it in a raid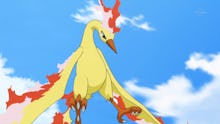 Pokémon Go Moltres raids are the No. 1 location you'll find the legendary monster. Now that Moltres is part of Pokémon Go, securing one before it flees for good on Aug. 7 is crucial.
You don't want to miss out on Moltres like you did Articuno, so how do you find a raid belonging to the legendary Pokémon? If you're having trouble locating a Moltres raid, here's a solution.
Pokémon Go Moltres sighting: How to find raid locations near you
Niantic officially announced the availability of Moltres on Monday, ordering trainers to "find a legendary raid battle near you!" But where are the ones near you, exactly?
Raid locator sites like NYC Pokémap can help you discover Moltres locations nearby. The map below, for example, has nine.
Philadelphia also has its own map, but the trick isn't limited to Pokémon Go players living in the Northeast.
Those residing in other cities like Chicago and Los Angeles can do the same with tools like GymHuntr — which, like NYC Pokémap, lets you search for a location nearby. Note how much time is left in the raid before you go running off to capture Moltres, though, as there's nothing worse than rushing over only to find the raid is over.
If you're using a tracker site like NYC Pokémap or GymHuntr and still have trouble finding a raid nearby, you may want to go to the nearest city or wait for a different time of day. At least it's still easier than spelunking through Victory Road.
More Pokémon Go news and coverage
Raids are here, and so are Articuno, Lugia and Moltres! See how to locate the best ones and why they may be the key to legendary Pokémon. Find out how to determine how long it will take you to reach level 40, and see what we think of the Gen 2 Pokémon added to the game. Here are the kinds of Pokémon you get from 10-kilometer eggs, and here's where you can check out what you missed during the Water Festival and Solstice events.