Chrissy Teigen gets real on Twitter about a period side effect no one really talks about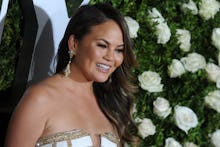 Let's run through some period side effects that are largely known and widely bitched about by the best of us: Cramps. Mood Swings. Headaches. Nausea. Bloating. Exhaustion.
Fun, isn't it?
Well Chrissy Teigen, our patron saint of celebrity outspokenness, has brought another side effect to light: period Skin, or acne, because your period can cause that too.
In a video posted to her Twitter account, Teigen showed off her glorious period skin, which is dotted with blemishes. "Period skin," she captioned the video. "So mad."
"This is my skin on my period," she announces.
"Look at it," she says, while touching the blemishes on her nose. "So angry."
Celebrities, they're just like us! Yes, really, periods can cause breakouts. Almost instantly, her Twitter followers were here for this moment.
Given Teigen's own track record of talking about once-forbidden things, like having stretch marks and wearing diapers after giving birth, it's not surprising that she's also one of the first celebs to post about how brutal it can be to be a person who has a period.
Before her, Jennifer Lawrence once said that she chose her 2016 Golden Globes dress because it was comfortable for her on her menstrual cycle. "I'm not going to suck in my uterus," she told Harper's Bazaar. "I don't have to do that."
So we guess Teigen's in pretty good company here.