Nintendo Switch System Update 3.0.1 : Console battery charging issue gets a fix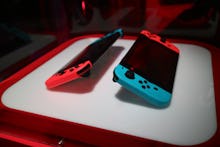 A new update for the Switch aims to fix a problem with the way the battery displays how much charge is available. According to the update, users were experiencing a problem where the battery display number would be incorrect — but that is no longer the case.
Unfortunately, it's likely that simply updating the device won't resolve the issue, you might have to follow some detailed instructions. Per Nintendo:
1. Ensure the console has the latest system update. The steps below apply to system menu version 3.0.1 or higher.
2. Set the Auto-Sleep mode to "Never" for "Playing on Console Screen" and for "Connected to TV."
3. Connect the AC adapter directly to the console until the battery is fully charged.
- If the battery charge indicator does not reach 100%, simply allow the console to charge for approximately three hours.
4. Once the battery is fully charged, leave the console alone for one hour with the AC adapter still connected to it.
5. Afterward, disconnect the AC adapter and allow the console to display the HOME Menu for approximately three to four hours.
- The remaining battery life must be depleted as much as possible.
6. Once the battery charge is almost depleted, power off the console by holding down the POWER Button for three seconds, then select "Power Options" > "Turn Off." Leave the console alone for at least 30 minutes.
7. Repeat steps 2 through 6 several times.
The battery charge indicator will improve gradually by repeating this process several times.
This isn't the simplest process, and could possibly take multiple days, but it seems to be the only option. Good luck and get charging.
More Nintendo Switch news and coverage
Looking for more Nintendo Switch news? Check out how blind gamers are using the Nintendo Switch. Nintendo's left Joy-Con issue turns out to be a hardware problem — here's how to solve it. Find out how to buy a console amidst the recent restock. Learn why the Switch cartridges taste so bad. Check out our comparison photos sizing up the Switch to the Wii U GamePad (part one and part two), or find out how to make use of ethernet without the dock and the best way to get alerts when new stock arrives.