Lawsuit alleges White House signed off on Fox News' retracted Seth Rich article before publication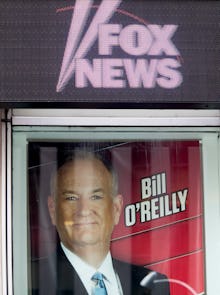 A Fox News contributor has alleged that a Fox News reporter coordinated with a wealthy Donald Trump supporter to craft a debunked news report about the death of former Democratic National Committee staffer Seth Rich, and that the White House reviewed the article's contents before its publication.
In a lawsuit filed Tuesday and first obtained by NPR, Fox News contributor Rod Wheeler claims that wealthy Republican financier Ed Butowsky worked directly with the network's investigative reporter Malia Zimmerman to craft a fabricated report on the circumstances surrounding Rich's death to suggest that Rich was the source of hacked emails from the DNC, and not Russian hackers.
Butowsky, who was revealed to have been bankrolling a private investigation into the death of Rich on behalf of Rich's family, first asked Wheeler to conduct the probe. Wheeler was quoted heavily in a May 16 article published on FoxNews.com that cast doubt on the official conclusions surrounding the death of Rich, who was shot and killed in what officials have said was a botched robbery attempt.
The article, in which Wheeler was quoted as saying that he had reviewed evidence suggesting that Rich was in contact with WikiLeaks prior to the release of thousands of emails from members of the DNC, breathed life into conspiracy theories about Rich's death. The report was covered breathlessly by Fox News and other right-wing outlets, even as Rich's family threatened legal action against Wheeler and as the story crumbled under scrutiny. Fox News retracted the article a week after its publication.
Now, in the lawsuit filed Tuesday, which Mic obtained and reviewed, Wheeler claims his quotes were fabricated by Zimmerman and Butowsky to advance a pro-Trump political agenda, and that his reputation has been ruined as a result.
In a statement provided to Mic, Jay Wallace, president of news for Fox News, said the lawsuit's claim that the story was published to serve as a distraction from the Russia story is "completely erroneous."
"The retraction of this story is still being investigated internally and we have no evidence that Rod Wheeler was misquoted by Zimmerman," he said.
The lawsuit alleges that Butowsky met with then-White House press secretary Sean Spicer to discuss the contents of the article before its publication. (Spicer confirmed the meeting with Butowsky to NPR.) At one point before the article was published, Butowsky allegedly told Wheeler in a text message: "Not to add any more pressure but the president just read the article. He wants the article out immediately. It's now all up to you. But don't feel the pressure."
Butowsky told NPR that he was "joking" about Trump reviewing the article. On Tuesday afternoon, White House press secretary Sarah Huckabee Sanders told reporters Trump had "no knowledge" of the story before its publication, and that the White House was not involved in the article.
Before the article was published, Butowsky also allegedly sent an email to Fox News talent, including Fox & Friends hosts Ainsley Earhardt, Brian Kilmeade and Steve Doocy, telling them: "One of the big conclusions we need to draw from this is that the Russians did not hack our computer systems and [steal] emails and there was no collusion like Trump with the Russians."
Wheeler, who is suing Zimmerman, Butowsky and Fox News' parent company, says that Zimmerman and Butowksy both admitted to him that the quotes attributed to him in the article were fabricated.
"[O]ne day you're going to win an award for having said those things you didn't say," Butowsky allegedly told Wheeler.
Wheeler also alleges that he met with Fox News executives and told them that Zimmerman fabricated quotes and attributed them to him, but that they did nothing.
Fox News gave the article wall-to-wall coverage on its morning shows and primetime programs before retracting the article from its website a week later, saying that the article did not meet its editorial standards. Fox News primetime host Sean Hannity, one of the biggest proponents of the conspiracy theory, has said he would not back down on the Rich story,
A spokesperson for Fox News did not respond to a request for comment about the lawsuit. To NPR, Wallace said there wasn't "concrete evidence" to show that Wheeler was misquoted by Zimmerman, and did not answer questions about the origins of the story.
Wheeler is requesting a jury trial.
You can view the entire lawsuit below:
Aug. 1, 2017, 3:17 p.m.: This story has been updated.