'Destiny 2' PS4 Controller: Ugly exclusive controller revealed as part of new bundles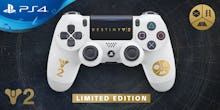 Destiny 2 is getting its very own PS4 controller, but it's not exactly easy on the eyes.
Admit it, we've all played video games and thought to ourselves "I wish my controller was a lot uglier and reflected my deep commitment to brands." These default controllers that come with consoles just don't have enough pizzazz, you know what I mean?
If you live in Europe, worry no more. Destiny 2 has got your back.
Destiny 2 PS4 controller: Exclusive Dualshock 4 coming to Europe
According to the PlayStation blog, you can get this Destiny 2-branded controller for your PS4 on Sept. 6 in most of Europe.
It's basically just the regular white PS4 controller with some text and logos on it. They took a pretty cool controller and made it bad by awkwardly stuffing branding into every conceivable piece of blank space. That cooler white controller, according to the same blog post, is still available as part of a PS4 Pro Destiny 2 bundle, as is a jet black model.
This isn't available in the U.K., Poland or Russia, and there is no word about it coming to the U.S.. But I think we can let Europe have this one. Most of its countries have universal health care and affordable college education, after all. So it's only fair that it gets this controller as karmic retribution.
More Destiny 2 news and updates
If you can't wait to get back out on patrol with your Fireteam, check out the rest of our coverage for Destiny 2. We've got coverage about why Bungie opted not to use dedicated servers for the sequel, why there won't be cross-play and cross-saves for PC and what you can expect from the game's PC specs and Battle.net partnership. Additionally, you can check out the new Supers being added to the game, some details behind guided games and the new Crucible changes as well. Finally, you can check out our ongoing coverage of the beta here.