Meet the email prankster who duped Scaramucci and other Trump officials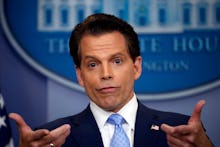 Anthony Scaramucci had just concluded the first week of his flash-in-the-pan stint as White House communications director when he received an email that seemed to be from his rival within the administration — President Donald Trump's "fucking paranoid" former chief of staff, Reince Preibus.
"I had promised myself I would leave my hands mud free," the email read, "but after reading your tweet today ... has pushed me to this. That tweet was breathtakingly hypocritical, even for you."
Of course, the email was not actually from Priebus, who was ousted from his top White House job amid a feud with Scaramucci last Friday, but from an email prankster posing as the former chief of staff.
The Mooch wasn't the first public figure to be duped by @SINON_REBORN, a self-described "lazy anarchist" — before the anonymous Brit hoodwinked Scaramucci and several other high-level Trump associates, he'd targeted a number of prominent bankers in a series of online hoaxes that earned him a moniker as the "Wall Street email prankster."
The prankster, whose real name does not appear to be known to the media, did not respond to multiple requests for comment from Mic, but told CNN — who first reported the hoax — that he tries to "keep it on the humorous side of things." On Twitter — where he posted about his email exchanges with Scaramucci, homeland security adviser Tom Bossert, incoming Ambassador to Russia Jon Huntsman and first son Eric Trump — he described pranking as a "hobby" of his and said that he would stop pranking the White House because he had made his point.
But he has launched a crowdfunding campaign to finance future hijinks and a writing project, indicating that his pranking days are far from over.
Who has the prankster pranked?
In his recent pranking of the Trump administration, the trickster fooled Scaramucci into a heated back-and-forth with a fake Priebus and into suggesting to a fake Huntsman that Priebus and Bannon should be fired. EMAIL PRANKSTER also successfully posed as Kushner in an exchange with Bossert, as Eric Trump in an exchange with Huntsman and as Donald Trump Jr. in exchange with Eric.
The latter caught onto the ruse, writing that he'd "sent this to law enforcement, who will handle from here."
"We take all cyber-related issues very seriously and are looking into these incidents further," White House press secretary Sarah Huckabee Sanders told CNN.
Before going after the White House, EMAIL PRANKSTER gained notoriety for duping prominent banking officials such as Morgan Stanley CEO James Gorman, Goldman Sachs CEO Lloyd Blankfein and Citigroup CEO Michael Corbat earlier this summer — all of which was chronicled on social media.
He also tricked Barclays CEO Jes Staley and Bank of England Governor Mark Carney in May, writing in the Evening Standard that those pranks were accomplished "from my bedroom watching Netflix."
In that account, the trickster described his pranks beginning as a kind of mini-crusade against Barclays in response to what he believed to be predatory practices.
"My Barclays feud is a long story that centers on a meeting I had with one of their advisers when I admitted I had a runaway gambling problem compounded by mental health issues," he wrote. "They offered no help or protection, even though I was spending five times my monthly salary."
"Flash forward a few months: My partner is in hospital for a serious operation and I'm 15,200 pounds in debt and hypnotized by the roulette wheel," he continued.
The prankster wrote that he received little response from the multinational bank and decided to prank Staley.
EMAIL PRANKSTER — who says that he has suffered from mental health issues his entire life and that his partner suffers from spina-bifida — has since framed his pranking as a kind of stress test for the attentiveness of public officials and the online security infrastructure of institutions, tweeting after a successful hoax targeting Member of Parliament Diane Abbott that he "just [wants] us all safe."
But in at least some of the cases, he appears to have gone after figures who — like Staley — he sees as having committed a wrongdoing of some kind.
The prankster — who on Tuesday afternoon had nearly 8,000 followers on Twitter — wrote that he went after Scaramucci because of his infamous "paranoiac" comments about Priebus, which he said used mental illness as a put down.
After his Don Jr. and Eric Trump email prank, in which he referenced hunting, EMAIL PRANKSTER posted anti-trophy hunting tweets and a picture of Trump's sons holding a dead leopard; the two are known trophy hunters.
CNN reported on the email hoax Monday, describing the pranks as "illustrative of how vulnerable Americans — even those in the highest reaches of power — remain to the potential threat of spear-phishing."
EMAIL PRANKSTER — who told CNN on Monday that he had not been contacted by law enforcement — said on Twitter Tuesday that he had received an outpouring of support for his "harmless" pranks.
"Follow your calling even if it seems utterly mental and unconventional," the prankster tweeted Tuesday. "Life is fun at times."