Trump's Cabinet is reportedly holding White House Bible studies. Is that unconstitutional?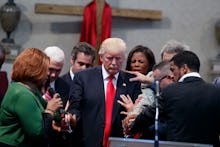 Several of President Donald Trump's key Cabinet officials meet regularly for bible study in the White House, according to a laudatory report released Monday by the Christian Broadcasting Network. At least one expert said she finds the news "troubling" — not because of the meetings themselves, but because of who's conducting them.
The man who's leading the meetings, Ralph Drollinger, is an evangelical minister with a history of anti-LGBTQ sentiment and the founder of the evangelical Capitol Ministries, a group with the stated goal of spreading "the Gospel" to public servants.
Maggie Garrett, the legislative director of Americans United for Separation of Church and State, said government officials have the right to attend any kind of religious study "on their personal time" — but this particular White House Bible study is "troubling."
"This one pastor is given what appears to be unprecedented access by the White House to top Cabinet leaders on a weekly basis," Garrett said in an email Tuesday.
It is even more troubling, Garrett said, "when you consider [that] this pastor has called Catholicism a false religion, said women who work after having children are sinners and said homosexuality is an abomination."
Drollinger's group, Capitol Ministries, claims on its website it "stay[s] away from politics and concentrate[s] on the hearts of leaders," but Drollinger's past comments have certainly caused controversy. In 2004, Drollinger said women lawmakers with children were "sinful" for doing their demanding jobs and having families at the same time, the Los Angeles Times reported at the time.
The group's website makes clear the ministry is anti-LGBTQ rights and vehemently against same-sex marriage. A letter attributed to Drollinger himself said, "It is Scripture-twisting clerics who would have others believe that the Bible supports homosexuality."
According to the CBN report, several Cabinet members, including Education Secretary Betsy DeVos, Energy Secretary Rick Perry and Health and Human Services Secretary Tom Price, have been attending weekly bible studies led by Drollinger.
Attorney Gen. Jeff Sessions and Vice President Mike Pence have also reportedly attended the meetings, which Drollinger told CBN constituted "the best Bible study that I've ever taught in my life."
When would a White House Bible study cross the Constitutional line?
Ira Lupu, professor emeritus of law at George Washington University Law School and an expert in constitutional law, said he understands why news of the White House Bible study may have raised some red flags.
"The appearance of Bible study in the White House shows a kind of symbolic alliance between a particular faith and the government, and that makes people uneasy," Lupu said in phone call Tuesday.
But, he added, "I wouldn't find it bothersome unless it was exclusive or coercive."
Experts say the Bible studies Drollinger is conducting in the White House don't violate the Constitution, unless there's more going on behind the scenes — like if attendees are being coerced into being there or the government is taking the official position that "Protestant Christianity is the one true faith," Lupu said. Private, optional religious observance in the White House doesn't necessarily violate the separation of church and state.
"There's a difference between tension and some violation of a constitutional norm," Lupu said.
Georgetown associate professor of law Martin Lederman seemed to agree, saying in an email Tuesday that "the principal legal concerns, if any, would be only if there were some pressure to attend ... [or] if other religions and secular groups were not permitted to have analogous study sessions."
That being said, Garrett remains concerned.
"The president and his Cabinet serve all of us," she said. "Knowing they attend Bible studies like this sows doubt in our minds about whether they do. Our government's policies should be inclusive and promote fairness and equality, not be implemented based on a narrow religious agenda."