SmartGlamour's latest campaign stars only models with various disabilities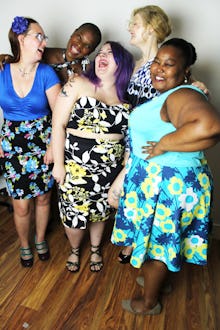 The fashion brand SmartGlamour has been built on a philosophy that fashion can be — and is — really for everyone. For years now, SmartGlamour has created campaigns that happen to feature people fashion often forgets, including those of various different sizes or genders or races or ages.
For its latest campaign, SmartGlamour chose to highlight one group of people it has long celebrated: people who have disabilities.
Among the five models in this campaign, there's Kody Mekell Keplinger, Zazel O'Garra, Elsa Sjunneson-Henry, Leslie Taub and Joanna Mallard. Three out of the five models have a visual impairment.
Taub has facial scarring and "starfish-shaped hands," as she's called them.
And O'Garra often wears a leg brace.
"One of the main pillars SmartGlamour was founded on was accurate representation of all people and all bodies," Mallorie Dunn, SmartGlamour's founder and designer, said in an interview. "We've had multiple disabled models in the past — including folks who weren't in this shoot. There is no shortage of folks who enjoy fashion and would love to be a part of something like this — there is only a shortage of opportunities for them." 
This campaign is actually a part of SG's series called #AllMeansAll or #FashionForAll, which indeed highlights some of the marginalized groups that are ignored even when brands claim they are "inclusive" or "body positive." And this initiative, Dunn said, was born partly in response to the political climate.
"We have always, for the past 3.5 years now, cast diversely [and] we have never highlighted folks' differences specifically as it's not in my interest to exploit people's differences or tokenize them," Dunn said. "However, 2017 has turned into a year with a ton of hatred coming out of the shadows and into the light — hatred directed at targeted marginalized groups — and I want those groups to truly know that SmartGlamour is here for them on every level. That we see their greatness shining equally as bright as everyone else's, and that we are here to shine a light on it for everyone else to see."
Flash forward to now, months into 2017, and Dunn hasn't slowed down in her fight to elevate the voices of people who fashion often ignores.
"When the majority of fashion doesn't mean to include everyone — even when they say they do — it is difficult for folks to believe us when we say it," Dunn said. "And I understand that. One of our go-to models and brand ambassadors always recounts her story of seeing our casting notice that said 'everyone, really,' and she didn't truly believe it until she showed up and then got cast. When your goal is to truly change and disrupt the fashion industry from the inside out, it can take a bit of extra time for folks to believe you."
In addition to these #AllMeansAll campaigns, Dunn also coordinates roundtables for the models included in these campaigns, which allow them to talk over topics as important as body image and self-love.
So how can the fashion industry change, and perhaps start to think of people who may have disabilities as valuable consumers and human beings? Dunn said this progress is still being held back by society, but individuals can help things along by supporting the people who remain marginalized.
"We need to support minority, women, POC-owned businesses that are creating change, not corporations offering their watered-down counterpart," Dunn said. "All of these things are interconnected. Marginalized groups are separate, and have separate issues, but also overlap and connect. Until we change the other mindset of obsession with thinness, whiteness and 'health,' we will never truly be free and accepting of all folks — regardless of their bodies' appearance or abilities."