Samsung Galaxy Note 8 is almost here — this is what you can expect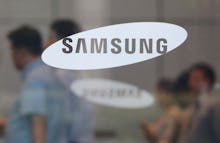 The debut of the Galaxy Note 8 is special for a few reasons. In part because the Samsung flagship device is a high-end smartphone with tons of interesting specs. And, in part, because its predecessor — the Galaxy Note 7 — was notoriously explosive.
Citing an unnamed source, Reuters reported that the Note 8 will be announced in August at a launch event in New York City. While the fate of the line was up in the air for some time, Samsung mobile chief D.J. Koh told CNet in January that the Note 8 was still coming.
"I will bring back a better, safer and very innovative Note 8," Koh said.
An alleged leak on Chinese social media site Weibo from June suggests the smartphone will feature a curved screen with a thin 6.7 mm bezel. The leak also hints at a single-sensor camera and an iris scanner.
Other rumors surrounding the Note 8 speculate the presence of a vertically aligned dual camera equipped with two 13 megapixel image sensors and a 6.3-inch or 6.4-inch display with QHD+ resolution. Android Police reported the device is rumored to look similar to the Galaxy S8+, with a "6.3" AMOLED display with a 18.5:9 aspect ratio."
The Note 8 succeeds the Note 7, which made its debut in August 2016. Following several reports of the device overheating and catching on fire, Samsung issued a voluntary recall in September, which took 2.5 million Note 7s off the market in 10 countries. After replacement devices also suffered from battery issues, Samsung discontinued the smartphone. The ordeal reportedly cost the South Korean tech giant $5.4 billion in operating profit. Last month, Samsung repackaged the Note 7 as the "Galaxy Note Fan Edition" and launched it in the South Korean market.
While Samsung has not made any official announcement, it is anticipated that the Note 8 will be announced at the Samsung Unpacked event on Aug. 23.