SNES Classic Preorder: Where and when you can get one of Nintendo's mini consoles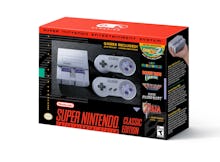 SNES Classic preorders have been as rare as the console itself. While other countries around the world have been able to purchase their SNES mini consoles early, those residing in the U.S. were presented with few options to buy in advance — not counting Walmart's flubbed SNES Classic preorder situation.
So when, exactly, can you preorder the SNES Classic? Nintendo has finally revealed when you can empty your wallet in the name of nostalgia.
SNES Classic Preorder: Nintendo promises late August
With less than two months to go before the SNES Classic release date, Nintendo's finally broken the silence on when you can expect to purchase the console. In a Facebook post, buyers received a period of time to watch for the console: late August.
SNES Classic Preorder: Where you can buy the console early
Judging by stores that made the SNES Classic available for preorder over in the U.K., it's likely that Amazon will join the preorder game. You can also expect Walmart to join, if only because they were so anxious to let you prebuy before. Hopefully they don't cancel SNES preorders this time.
It's unclear as to whether or not GameStop will take preorders, considering they didn't when the NES Classic was released.
Didn't put in your preorder in on time? You still may be able to show up to Best Buy, Target or Walmart in person. Nintendo's confirmed that the SNES Classic will see a limited amount hit store shelves, but, according to the Facebook post, we'll see systems not just for preorder but on launch day. Just be ready to brave any potential crowds or lines of folks with the same idea.
Check out more gaming news and coverage
Check out the latest from Mic, like this what we learned when we chatted with seven booth models at E3 2017 about expo culture. Or this deep dive into the cultural origins of Gamergate. Also, be sure to read this essay about what it's like to cosplay while black, a roundup of family-friendly games to play with your kids and our interview with Adi Shankar, producer of the animated Castlevania Netflix series.