Senate confirms Christopher Wray as next FBI director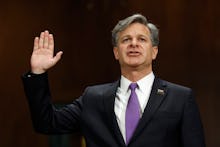 Christopher Wray will be the next director of the FBI, after the Senate confirmed his nomination Tuesday afternoon with bipartisan support.
The final vote was 92 to 5, will all no votes coming from Democrats.
Wray will succeed acting FBI Director Andrew McCabe, who took leadership of the bureau after President Donald Trump unexpectedly fired James Comey.
A lawyer who served in the criminal division of the Department of Justice under former President George W. Bush, Wray earned support from Democrats, who praised his vow of independence during his confirmation hearing in July.
At that hearing, Wray said he'd be an impartial director who would refuse to pledge loyalty to Trump. It was a question members of both parties repeatedly raised after Comey said Trump asked for his loyalty before his ouster.
"I need loyalty, I expect loyalty," Trump said to Comey, according to sworn testimony Comey gave to Congress on their interactions.
Wray also pledged to support special counsel Robert Mueller's investigation into the Trump campaign's alleged ties to Russia. The investigation has cast a dark cloud over the Trump presidency, and Trump has hinted he is debating whether to fire Mueller.
"I would be pleased to do what I can to support him in his mission," Wray said about Mueller's investigation.
Wray also said he doesn't believe Mueller is on a "witch hunt" — a term Trump has used repeatedly to describe Mueller's probe.