Idaho is pinning the blame for rising health care premiums on the Trump administration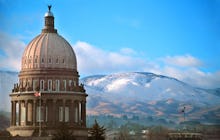 A top government official in one of the country's most conservative states is blaming the Trump administration for rising health care costs.
The head of Idaho's Department of Insurance, Dean Cameron, took the Trump administration to task for rising health care premiums in his state, according to a report in the conservative Washington Examiner.
Insurers on Idaho's individual market exchange recently announced average premium increases for 2018 to be about 38%. Under the Affordable Care Act, individuals who do not get insurance through their employer or through the federal government must purchase insurance on market exchanges or pay a tax penalty.
The government subsidizes the cost of that insurance in order to make it affordable for low income people. But President Donald Trump has repeatedly threatened to let the ACA fail by declining to make those payments.
Cameron says the uncertainty surrounding Trump's threats are the reason that insurers are hiking premiums.
"I call on Congress to either repeal the [subsidy] requirement or fund the program," he told the Examiner. "That action alone would reduce the proposed increase by at least 20% on the silver plans."
Top congressional Republicans have supported the payments and urged Trump not to stop making them.
Sen. John Thune (R-S.D.) told NBC News, "I hope the president will continue to make those payments."