New Franchise Project voting group offers state scorecards — and scorn for Trump fraud panel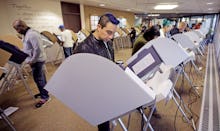 Emma Olson Sharkey met Sarah Esty when both women were trying to get Hillary Clinton elected as president.
"I was the Wisconsin voter protection director and Sarah was in Brooklyn, overseeing voter protection directors in several battleground states," Olson Sharkey said, and the two shared a background in grassroots organizing.
After the election, Olson Sharkey said in an email that she and Esty "decided to create an organization that would help more people engage in voting rights activism, in part because every cycle, voter protection teams run into similar barriers to voting all over the country."
Enter The Franchise Project, which just debuted with a new ranking of the ease of voting nationwide — and some hard words for President Donald Trump's controversial Election Integrity Commission.
The TFP scorecard, a focal point of the new project, came to life "with the help of [Hillary for America] alumni, voter protection veterans, volunteer lawyers, and law students from across country," Olson Sharkey said.
TFP "breaks down how easy it is to vote in each state based on 30 straightforward, easy-to-understand criteria" and, more broadly, "provides clear, concise guides about how people can take action at the local level to improve voting access in their communities."
TFP ranked the states according to a set of criteria including the availability of early voting and same-day registration, photo ID requirements and "felon enfranchisement," which means allowing convicts to vote while incarcerated, on parole or probation or out of the justice system.
According to the scorecard, the District of Columbia came in first with a score of 26 out of 30 points. Oregon and Washington State tied for second at 25 points, and Maryland and Minnesota both ended up in third with 23.5 points.
The nation's capital scored high thanks to benefits such as Election Day registration, allowing voters to register to cast ballots by mail permanently, not requiring photo identification at the polls and letting convicted felons vote on completion of their sentences.
At the bottom of the barrel with a lowly six points: Mississippi, followed by Alabama at eight and Missouri with eight and a half.
Mississippi didn't offer Election Day or automatic voter registration, did not restore voting rights to felons and didn't allow voters to request absentee ballots online.
As Olson Sharkey explained in a Medium post, the focus will be on grassroots organizing, including in-person meetings and conference calls promoting "voting rights activities" on the local level.
The release on the launch of TFP also had some scathing commentary about Trump's commission, accusing it of having an "unstated goal" of backing up the president's unsubstantiated claims about the supposedly rigged election in which he defeated Clinton.
The call to action, the Clinton campaign alumna said, includes urging the public to do anything from "volunteering as a poll worker, to calling their secretary of state to tell them not to release data to the Pence-Kobach Commission, to urging their state legislators to enact reforms like Election Day voter registration."
The office of Kansas Secretary of State Kris Kobach, who is currently trying to get out of answering questions under oath about documents outlining potential changes to U.S. voting laws, did not respond to an email Tuesday.
Various groups have filed legal actions against the commission in an attempt to delay or prevent it from gathering voter data.
Kobach, who's also a Republican candidate for governor of Kansas, reissued his request to state officials for the information last week after a judge sided with the government in a complaint filed by the Electronic Privacy Information Center.
A judge also just denied an emergency motion filed by the watchdog group Common Cause, which said the commission's data request ran afoul of the Watergate-era Privacy Act of 1974, according to reports.