How two worshippers at the Sikh Temple of Wisconsin turned tragedy into personal triumphs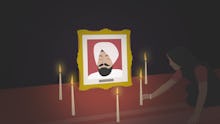 Five years ago, white supremacist Wade Michael Page stormed into the golden Sikh Temple of Wisconsin in Oak Creek, just 12 miles south of Milwaukee. He opened fire and fatally shot six people — one woman and five turban-wearing men.
It was Aug. 5, 2012, and at the time, the Oak Creek shooting became the largest act of violence against a religious community in the United States since the 1963 church bombings in Birmingham, Alabama. Now, the Oak Creek Sikh community is reflecting on the tragedy that changed what it meant to be Sikh in America forever. Two worshippers at the Sikh Temple of Wisconsin shared their stories with Mic as the community marks five years since the tragic event.
On the day of the shooting, Pardeep Kaleka was on his way to the temple when he received a phone call over his car's Bluetooth system from a family friend. Kaleka learned that his father Satwant, the cofounder and president of the temple, was shot. Kaleka's children, 7-year-old Armaris and 4-year-old Jai, were in the backseat. They heard the news before Kaleka could comprehend what just happened to their temple.
"I'm gonna get the bad guy dad," Jai said from his car seat, Kaleka recalled to Mic over the phone. Page, an army veteran, shot himself in the head and died at the scene.
Satwant died at the temple, too, and Kaleka arrived just 10 minutes after the shooting. The only reason they weren't there is because Amaris, his daughter, forgot her notebook at home, prompting them to turn back to retrieve it. Kaleka said his children saved his life, and for the rest of the year, they also watched him try his best to heal after losing his father.
"[Jai and Amaris] understood at a very young age that a bad guy had killed their grandpa," Kaleka said. "They also knew that their grandpa died a hero trying to fend off a gunman with a butter knife."
Kaleka's dad taught him what it meant to have true grit. Satwant immigrated to Milwaukee in 1982 with his wife, Satpal, and 6-year-old Kaleka. Before leading efforts to create the monumental gurdwara (or Sikh temple) in Oak Creek, Kaleka's parents were cotton and mustard-seed farmers in a small village in India's Punjab province.
In Milwaukee, Satwant worked at gas stations and at manufacturing plants, while Satpal would knit clothes and take up odd jobs until they saved enough money to start their own gas station and convenience store. The mom-and-pop shop was called "S and S Gas," a tribute to the first initial of their first names. But it all came at a price.
Satwant was robbed twice at the gas station, Kaleka said. In the first incident, a robber hit Satwant on the head with a hammer, and in the other, he was held at gun point. His wife was also held at gun point several times. After the Sept. 11 attacks, Kaleka said there was a new wave of anti-immigrant and turban-phobic atmosphere in the Milwaukee area. He said that KKK pamphlets were often scattered across their gas station lot. Some patrons would come to the gas station to mock Satwant's turban and berate him with racist slurs. Some people would outright ask if they were terrorists.
This was not uncommon for members of the Sikh American community after the 9/11 attacks. The lack of understanding about Sikhism and its followers has become deadly. Despite Sikhism being the fifth largest religion in the world, about 49% of Americans believe Sikhism is a sect of Islam. On Sept. 15, 2001, 49-year-old Sikh American Balbir Singh Sodhi was shot and killed outside of a gas station he owned in Arizona. The killer, Frank Silva Roque, was a Boeing aircraft mechanic in Mesa, Arizona, where colleagues reportedly heard him say he wanted to "shoot some rag heads," the day after 9/11. According to police reports, Roque also told his wife he wanted to kill Arabs and "slit some Iranian throats." On the day of Sodhi's fatal shooting, Roque was kicked out of a local bar in Mesa after he threatened to "kill Middle Eastern people."
Hours later, Roque drove into a Chevron gas station and fired five bullets from his Chevy pickup truck, killing Sodhi instantly. Roque then sped off to a home he sold to an Afghan-American family and fired several bullets and then to another gas station where he fired seven bullets at Lebanese-American Anwar Khalil, the Huffington Post reported. When police arrived at Roque's home later in the day and arrested him, Roque shouted that he was a "patriot and a damn American."
But despite an onslaught of bias-motivated violence, Kaleka's parents never reported these incidents to the authorities. "[Sikhs] have a sense of resiliency and as a culture do not dwell on the bad things that happen," Kaleka said.
The price of being Sikh in post-9/11 America
Unfortunately, underreporting incidents of bias results in the inaccurate recording of anti-Sikh hate crimes. The Sikh Coalition, a Sikh civil rights advocacy group, began formally logging hate crime intakes in 2007. From then until March 2016, the group said it received 43 hate crime reports. But in December 2015, after the San Bernardino and Paris attacks, the Sikh Coalition witnessed an approximate 200% increase in reported anti-Sikh cases in the months that followed. In 2009, the Sikh Coalition said it discovered that the FBI and local law enforcement would often inaccurately label anti-Sikh hate crimes as "anti-Muslim."
Rajdeep Singh, interim managing programming director of the Sikh Coalition, also reviewed over 140 anti-Sikh incidents, including discrimination and bullying, between 2001 and 2012. According to the group's 2008 grassroots survey of Sikhs in New York City, 9% of respondents said they experienced physical assaults on account of their religion. For his 2010 survey for Sikhs in San Francisco, 10% of survey respondents said they experienced "bias-based assaults or property damage on account of their religion."
"Given that the total population of Sikhs in the United States may be no more than half a million, Sikhs may be thousands of times more likely than their fellow Americans to suffer a hate crime," Singh said in an email.
Singh said he remembered learning about the 1963 Birmingham church bombings in school, where four Klansmen placed explosives in the 16th Street Baptist Church killing four girls and injuring at least 14 people. He said the church bombings represented a huge tragedy that further galvanized civil rights leaders.
"But it's not clear to me whether Oak Creek will be remembered in future generations of Americans," Singh said in a phone interview. "I think it should. It represents, along with the Charleston attack, a reminder that hate is a threat to Americans more generally and a threat to the ideals of this country, and it's not something we should explain away as an outlier."
Singh said that the Oak Creek shooting was a wake-up call for Sikhs. The shooting underscored the need for the Sikh community to play a more prominent role in American life. Singh said there's a lot of ignorance in the country about who Sikhs are and what they are, and that the ignorance is a breeding ground for bigotry and hate crimes in the post-9/11 environment.
"The shooting prompted Sikhs to begin thinking [about] how they could educate their fellow Americans and force Sikhs into becoming more visible leaders in their communities, more active in their children's school and more politically involved with the hopes of some day running for public office," Singh said.
Moving forward five years later
Kaleka found a way to move forward after his father's death. He suffered from survivor's guilt after the attack, but that also inspired him to seek solutions. He established a youth-focused nonprofit organization to combat all forms of hate and bias-motivated violence. Partnering alongside former white nationalist Arno Michaelis, the duo founded Serve2Unite, which facilitates peace-building workshops for students across the country.
For Kaleka, attempting to understand hate and combatting its bigotry is an act of vengeance of Satwant's death. "I do seek vengeance," Kaleka said. "I believe forgiveness is vengeance."
For 23-year-old Harleen Kaur, a former member of the Oak Creek temple, getting revenge meant persevering despite hatred. Kaur was preparing for her first year at the University of Michigan when she first heard of the shooting. A week later, Kaur began wearing the dastaar (turban) and has continued to wear it ever since.
"The main declaration I wanted to make was that my Sikh identity was something that was not just a part of me but the essence of who I am," Kaur said in an email.
Kaur, the daughter of Indian immigrants, said the Oak Creek shooting was a moment for Sikh Americans to recognize that instead of putting effort into assimilation, they needed to carve out their own places in their homes as a community that serves and loves all individuals. For Kaur, wearing the turban was a way to say that loudly to the world and, more subconsciously, force her to stop hiding from the fear of being different.
Kaur was raised in a household that put its Sikh faith first. But before the Oak Creek shooting, she said she was still hesitant to accept the physical and more outward parts of her faith. "Although I have always kept my hair as per the Sikh faith, the dastaar seemed too bold and brave for who I was," Kaur said.
While growing up, she felt the perceived notion of her identity as a Sikh Indian was that she didn't belong in the U.S. And so, she tried too long to assimilate or be a part of the typical American crowd while still attempting to adhere to her Sikh values. But after the shooting, Kaur said her views on her Sikh identity shifted. She began to draw courage from the many Sikhs before her and looked to her present community to find brave representatives of her faith. Her Sikh identity is a daily reminder of that, she said.
"The power of the Sikh identity is that, although there are many times that we are on our own, our identity allows us to spot each other from afar and give each other strength," Kaur said. "We are able to remind each other that a legacy of resilience runs through our veins and that our instinct after any pain or trauma should be to remind ourselves, and others, of all the good that still remains."