'Overwatch' Summer Games 2017 Release Date, Skins: Developer Update for the new event revealed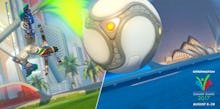 After much anticipation, the Summer Games 2017 event for Overwatch has been announced. This marks the second annual summer games and the first repeated event for the game so far.
According to a tweet, the Summer Games will return on Aug. 8.
In the developer update released alongside the announcement, Jeff Kaplan, the game's director, outlined some of the changes coming with the update.
He stated that Junkrat and Mercy will be getting skins and also mentioned that Widowmaker and McCree fans "are going to be really blown away."
In addition, cosmetics from last year's Summer Games will also be available — and fans will be happy to see that all of those cosmetics will be available at regular credit cost. So, instead of paying 3,000 credits for a Legendary, you'll be paying just 1,000 credits.
Lucioball will be returning at the Summer Games brawl. The Rio map will be returning alongside a new Sydney map designed specifically for the event. There will be some mechanical changes to the game, but the other main difference is that Lucioball will be receiving a competitive mode — marking the first event brawl to receive a competitive mode.
More Overwatch news and updates
For more on Overwatch, check out the rest of what Mic has to offer. Here is an intro to the cute, new "Wholesome Overwatch" subreddit, a look at some gorgeous Overwatch-themed PS4 and Xbox One controllers, a cool Easter Egg in the new Horizon Lunar Colony map and a criticism of Blizzard's failures in its design of Symmetra.