US calls on North Korea to abandon nuclear program just before test-launching its own ICBM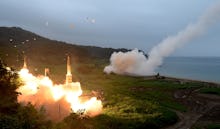 United States officials appear to be weighing a few different tactics when it comes to de-escalating tensions with North Korea.
On Tuesday, Secretary of State Rex Tillerson said during a press briefing that the U.S. is willing to enter talks with the country on the condition that it puts a hard stop on developing nuclear weapons.
"We felt the appropriate thing to do first was to seek peaceful pressure on the regime of North Korea, to have them develop a willingness to sit and talk with us and others — but with an understanding that a condition of those talks is that there is no future where North Korea holds nuclear weapons or the ability to deliver those nuclear weapons to anyone in the region, much less to the homeland," Tillerson said, according to CBS News.
The secretary of state's remarks follow news of North Korea's reportedly failed intercontinental ballistic missile test at the end of July, the second ICBM test that month. Despite speculation that North Korea's latest ICBM's re-entry vehicle fell apart during the launch, Kim Jong Un maintained the missile could reach the "whole U.S. mainland."
Hours after Tillerson's Tuesday press briefing, NBC News reported that at 2:10 a.m. Pacific Time the following morning, the U.S. test-launched its own ICBM.
A statement from the Air Force maintained the test was not a response to North Korea's tests, but rather a demonstration that the U.S.'s nuclear program was "safe, secure, effective and ready to be able to deter, detect and defend against attacks on the United States and its allies."
Still, it's noteworthy that the test also arrived on the heels of the U.S.'s own show of force, which involved the country's B-1 bombers joining forces with Japanese and South Korean fighter jets to fly over the Korean Peninsula on Sunday. That 10-hour mission, the Air Force said, was indeed an answer to North Korea's ICBM tests.
Americans will continue to know very little about what measures the U.S. will take to abate North Korea's nuclear threats. In a Tuesday White House press briefing, press secretary Sarah Huckabee Sanders said only this: "All options are on the table."