Inside the mission to bring educational mobile games to children in conflict zones around the world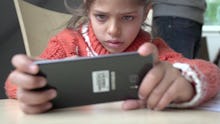 An estimated 2.5 million Syrian children have been displaced by the country's ongoing civil war, according to Norad, the Norwegian Agency for Development Cooperation. This not only prevents those children from accessing structured, formal education, but also subjects them to an obscene amount of stress and emotional trauma.
In an effort to address those problems, Norad is taking advantage of a nearly ubiquitous piece of technology to supplement Syrian children's education: smartphones. Specifically, it's using free, educational mobile games to help Syrian children learn Arabic. Now, a tech nonprofit is using Norad's games as a model to reach children all over the world.
The Norwegian government funded two new open-source education apps: Feed the Monster and Antura and the Letters
Since smartphone ownership among Syrian families is very high, Norad organized an educational app development competition designed specifically to take advantage of that built-in distribution system. In March, Norad announced the winners: Feed the Monster, a game in which players help a horned critter by completing challenges, and Antura and the Letters, a collection of several dozen minigames centered around a cute, animated bulldog.
Both games are totally free, take up less than 100 megabytes of data, don't have in-game advertisements, don't require an internet connection and are specifically designed to mimic the style of the educational games you know and love — think Math Blaster, Where in the World Is Carmen Sandiego, and Oregon Trail. In Feed the Monster, you might have to figure out what letter the monster wants to eat by solving a fill-in-the-blank puzzle. So far, both games have been downloaded around 30,000 times, according to Rachel Alves, who presented Norad's ongoing project at the Games for Change festival in New York.
Both games are totally free, take up less than 100 megabytes of data, don't have in-game advertisements, don't require an internet connection.
"We had initial goals that were slightly higher than that," Alves said in a phone call. "I think we were hoping for a few ten thousand more [downloads by now], but because they were in such relevant countries and because we received app promotion in the Google Play store in Jordan and Turkey, that helped getting the apps out to the right, relevant families and children."
So how effective are these apps at filling in the gaps? Norad said anecdotal feedback from families has been positive, but the results of a more thorough, scientific study of each game's effects will be released in October.
Alves said the study, which is centered on the Azraq refugee camp in Jordan, will measure the effects of the apps on 900 Syrian children in two different ways. First, Norad will see whether the games had a measurable effect on kids' grasp on the basics of Arabic. Second, they'll measure what Alves called "psychosocial well-being," a way to determine whether playing Feed the Monster or Antura and the Letters has a positive effect on their emotional state.
Despite the fact that tangible data on the effectiveness of these apps is still a couple months away, the literacy-focused nonprofit Curious Learning thinks Norad is onto something big — and it's getting in on the action.
Translating Feed the Monster into over 100 languages
Over the next six to 12 months, Curious Learning will translate Feed the Monster into over 100 languages. It's just the latest step in the organization's mission to create, curate and help distribute educational language games around the world.
"We saw the results of the EduApp4Syria prize and reached out to ... [Norad] and started working with a bunch of different stakeholders to select one of the games to localize," Taylor Thompson, partnerships director for Curious Learning, said over the phone.
"We are finishing up the English-language version [of Feed the Monster] and have piloted translation in maybe a dozen languages," Thompson continued. "And we have actually started working on the process so we can do this at scale. So, the goal is to be able to do this for a pretty low cost — so, to take the app and bring it into about 100 high-impact languages."
The process of raising funding to do this is still ongoing, Thompson said, but the way Feed the Monster is built makes it relatively easy to swap out Arabic or English for just about any language — it's just a matter of finding a company that's willing to back them up.
The way 'Feed the Monster' is built makes it relatively easy to swap out Arabic or English for just about any language.
"We're kind of opportunistic about which languages we're prioritizing," Thompson said. "So, when we have a partner that's interested in distributing it — if it's a company that wants to distribute it with their employees or a phone operator or a tech company that wants to distribute it — it's pretty inexpensive to translate it into a new language now that we have the process set up."
An early version of the English translation of Feed the Monster should be available in the next few weeks as a sort of demo for potentially interested companies, according to Thompson. If all goes well, Feed the Monster will continue getting translated into at least 100 other languages soon thereafter.
"The game has this narrative of the young monster who has to flee from their home, and you're rescuing and taking care of your friends by learning to read," Thompson said. "So, the game is definitely designed around that emotional narrative [of a refugee], but it's also a pretty broadly resonant one."
More gaming news and updates
Check out the latest from Mic, like this deep dive into the cultural origins of Gamergate. Also, be sure to read this essay about what it's like to cosplay while black, a roundup of family-friendly games to play with your kids and our interview with Adi Shankar, producer of the animated Castlevania Netflix series.