Benjamin Melzer and Loiza Lamers become the first transgender models to land their own PETA campaign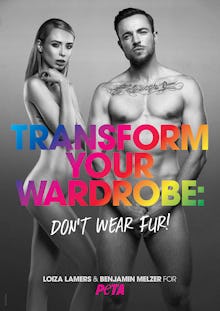 In 2015, Loiza Lamers made history by being the first transgender model to win Holland's Next Top Model. In 2016, Benjamin Melzer made history by landing the cover of Men's Health Germany, becoming the first transgender man on the cover of a men's fitness magazine in Europe.
Now working together as a modeling duo, Lamers and Melzer have teamed up to make history yet again. This time, it's by being the first transgender models to pose nude for PETA's international "I'd rather go naked than wear fur" campaign.
"Ben and I have always been firm believers that cruelty towards animals and the use of fur, especially in the fashion industry, is terrible, outdated and unnecessary," Lamers said in an email interview. "The campaign came about after we had a conversation about the subject and decided to reach out to PETA. They got it right away and we started putting [together] the concept for the ad."
In posing for this campaign, the two, who have modeled together for Diesel, join people like Pamela Anderson, Eva Mendes, Pink and Taraji P. Henson, all of whom have posed nude for PETA campaigns as well.
"It means everything," Melzer said in an interview. "How can we as members of the LGBTQ community want the world to acknowledge and respect us but stand by and let such a hurtful, inhumane practice in our industry continue without speaking out? That would make us hypocrites. When you really think about it, the trans community and PETA have a lot of the same goals. Love and respect should be for all. It's that simple."
In addition to the campaign image, there's a making-the-campaign video that shows how this ad went down.
You can see the entire campaign video below: