How Donald Trump has focused his energy to target non-white Americans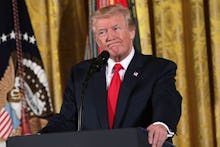 Welcome to the political newsletter that wonders whether you'd be happy with living in the White House. Apparently, Trump is not. (See below.)
Want to receive this as a daily email in your inbox? Subscribe here.
What we're watching:
Today: The Trump administration's move against college admissions practices that are beneficial to minorities is part of a larger trend.
More: The road ahead for tax reform already looks bumpy — and may stretch into 2018.
Even more: Trump is preparing a major move against China on trade.
Yes, more: A lawsuit alleges the White House was involved in pushing a fake article about the death of former DNC staffer Seth Rich.
Trump's agenda today: Proposing a new immigration policy at the White House. Meeting with Sen. Rob Portman (R-Ohio).
How Trump has focused his energy to target non-white Americans
The summer has been dominated by the health care debate and tracking the latest developments in the investigation of alleged Trump-Russia collusion.
But if you look past the big stories, you'll see the Trump administration has quietly focused resources on a number of policies that hurt minorities.
On Tuesday, the New York Times reported</a> the Justice Department will investigate and potentially sue universities that it sees as discriminating against white applicants. The move challenges years of doctrine aimed at increasing the number of minorities, particularly African-Americans, on college campuses and reverses years of work by the Obama administration.
The interim head of the Justice Department's civil rights division, who will oversee the new initiative, is known for defending states that have been accused of gerrymandering districts to disfavor minority voters.
The affirmative action news comes on the heels of Trump's Election Integrity Commission launch, which, as the president has tweeted, was formed to investigate "voter fraud." The group is led by the Kansas secretary of state, who critics have said champions voter suppression tactics that target minorities in the name of nonexistent voter fraud. It was formed after Trump claimed that millions of undocumented immigrants voted in the past election — a totally unproven claim.
At the same time, arrests of undocumented immigrants are increasing as the backlog of people waiting to be deported has ballooned to more than 600,000. And on Wednesday, two conservative senators will join Trump at the White House to announce a plan to allow fewer legal immigrants into the U.S. each year. Sens. Tom Cotton (R-Ark.) and David Perdue (R-Ga.) want to require that immigrants to the U.S. have particular skills to benefit the economy, which would likely disadvantage Hispanic immigrants, among others.
If Trump has achieved one thing in his first six months in office, it is creating systems of governments that view minorities with increased suspicion.
News and insight you cannot miss:
A day into the push for tax reform, legislative red tape means there may be no reform until next year. Senate Majority Leader Mitch McConnell (R-Ky.) said Tuesday he will only seek 50 votes and not work toward bipartisan tax reform.
Trump is preparing an aggressive move against China stealing American intellectual property. It could yield an international dispute that plays out before the World Trade Organization. The president had previously shied away from action against Chinese trade practices in the hope China would aid the U.S. in corralling North Korea.
Highlights of a new Sports Illustrated story on Trump and golf: On the green, Trump has called the White House "a real dump" and invited golfers to "drop in on his cabinet interviews."
Politico obtained the transcript of a recent interview between Trump and the Wall Street Journal, revealing that the newspaper's editor and the president are particularly friendly.
The head of Idaho's department of insurance criticized the Trump administration for increasing premiums in the state, saying insurers are driven by the uncertainty Trump has created around whether he will fund subsidies to help low-income Americans buy health insurance.
A Fox News contributor has alleged that a Fox News reporter coordinated with a wealthy Donald Trump supporter to craft a false news report about the death of former Democratic National Committee staffer Seth Rich. A lawsuit claims Trump reviewed the article's contents before its publication.
The Senate confirmed Chris Wray as the next FBI director.